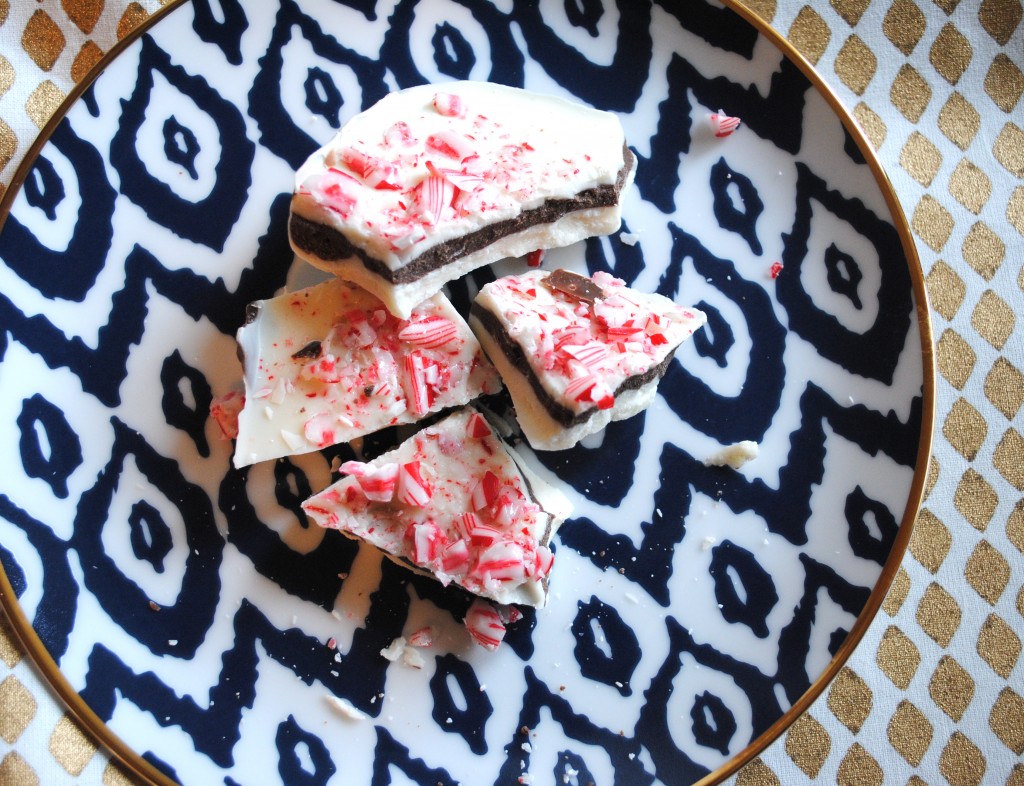 The Williams Sonoma peppermint bark is always a holiday favorite. Instead of heading to the store to purchase a tin, I decided to whip up a homemade batch. They make the perfect little gifts. Fill a mason jar or cute little tin, add a bow and you have a delicious and easy treat. Depending on how thick you want the bark to be, you can always make just two layers. Start with the milk chocolate and then top with the white chocolate so your crushed peppermint stands out.
Chocolate Peppermint Bark
ingredient:
12 -16 0z white chocolate
6 oz milk chocolate
crushed candy cane pieces
directions:
Layer a 9×9 baking pan with aluminum foil and set aside. In a microwave safe bowl heat the white chocolate for 30 seconds. Stir, and continuing heating in 30 second intervals until smooth. Pour the melted white chocolate (12 oz) into the prepared pan. Place in the refrigerator until the chocolate hardens (around 15-20 mins). Repeat the same melting process with the milk chocolate until smooth. Pour over the white chocolate and tilt the pan to make sure the milk chocolate covers. Place back in the fridge for another 15-20 minutes or until hardened.  Repeat again with another layer of white chocolate (I used around 5 oz for the top portion) and sprinkle with crushed candy cane pieces. Back to the fridge the pan goes for the last 30 minutes.
Pull the aluminum foil up to remove the bark. Break into piece and enjoy!
xx