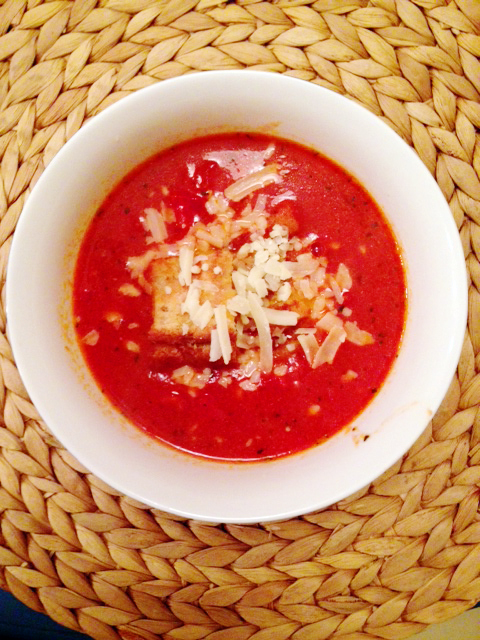 As a self proclaimed soup lover, this was my first time making homemade tomato soup. This soup takes under 15 minutes to be made and is great  to throw together for lunch or for weeknights when you just don't feel like cooking. We paired ours with grilled cheese croutons, but next time I'll probably serve with a half a grilled cheese sandwich instead. Tip: The croutons can get soggy quickly if you don't eat them first, or if it's not crispy enough.
Easy Tomato Basil  Soup
via everyday occasions
ingredients:
3 cloves garlic, minced
2 tbsp. olive oil
2 (14 oz) cans of crushed tomatoes
1 (14 oz) can of whole tomatoes
2 C. of chicken broth
1 tsp sea salt
1 tsp sugar (we used truvia)
1/2 tsp of fresh black pepper
1/4 c. heavy cream (we used 1/2 and 1/2)
3 tbsp. of fresh basil, julienned
parmesan cheese
directions:
In a saucepan, saute garlic in olive oil on medium heat for 1 minute. Add crushed tomatoes. Next, add the whole tomatoes one at a time, squeezing them into the pan to break them up. Add the juice from the whole tomatoes. Add chicken stock, salt & pepper and sugar. Cook the soup on medium  for 10 minutes.
To finish, reduce the heat to low and stir in heavy cream and basil. Serve topped with parmesan cheese and a side of grilled cheese.
xx