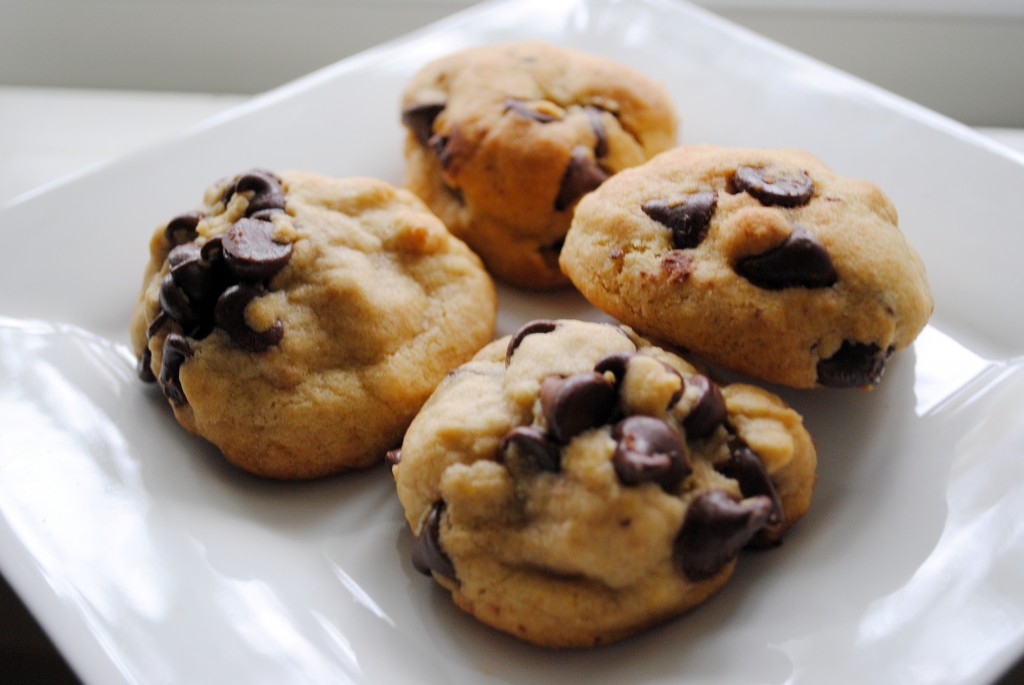 My mom and I are always on the hunt for new chocolate chip cookies recipes to try. When we came across one that substituted all of the butter in a recipe with coconut oil, we pulled out our jar from Trader Joe's and got started. I noticed a hint of coconut taste after they were baked, but nothing overwhelming. Ours look  a little taller than normal because we accidentally stuck them in the freezer instead of the fridge, whoops. They still came out great though!
Chewy Coconut Oil Chocolate Chip Cookies
via averie cooks
ingredients:
3/4 c. coconut oil, melted
3/4 c. light brown sugar
1/4 c. granulated sugar
1 large egg
1 tsp vanilla extract
2 c. all-purpose flour
1 3.5 ounce packet instant vanilla pudding mix
1 tsp baking soda
pinch of salt, to taste
2 c. semi-sweet chocolate chips
directions:
Using a stand mixer combine butter, sugar, eggs, vanilla extract  and beat on med-high until well combined. Scrape down the sides of the bowl, add the flour, pudding mix, baking soda, salt and beat on low speed until just combined, about 1 minute. Next, add in the chocolate chips and beat on low until just combined. Mixture will look shaggy and like shredded dough.
Using a large cookie scoop form equal sized mounds of dough by compressing, compacting and squeezing until the dough comes together; don't be afraid to really squeeze it. If your dough isn't coming together, drizzle one tbsp of coconut oil until it comes together. (Do this as a last resort) Place the cookie scoops on a large baking tray, cover with plastic wrap and refrigerate for at least 3 hours or up to 5 days. Chilling the dough is an absolute must as the room temperature dough will produce thin cookies. It's hard to shape them after chilling, so be sure to form the dough beforehand.
Preheat the oven to 350 degrees and bake for around 11 minutes. Let cool for 10 minutes and enjoy!
xx