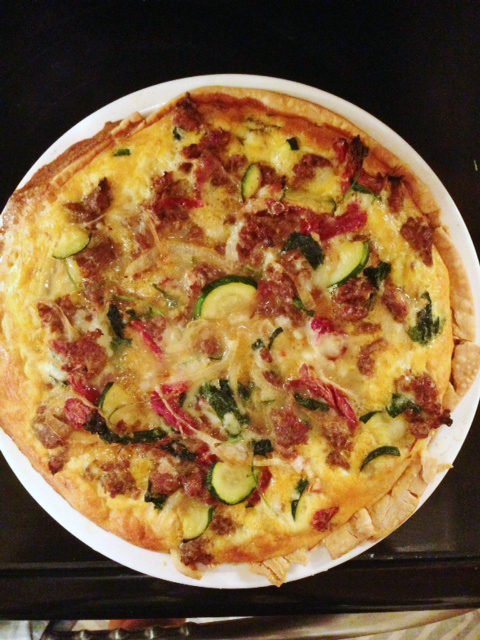 It's taken me 26 years, but I'm proud to say I made my first quiche. These are so simple to make, but to be honest I've never been a huge fan of the dish. I never knew what meal to eat it for and it seemed to only fit in at a bridal or baby shower. On the other hand, B loves a good quiche and when I read the ingredients for this one I had a feeling my opinion would change. Sun dried tomatoes, italian sausage, zucchini and fresh gruyere cheese all come together to make the most delicious treat. I'm hands down a converted quiche fan and plan on making this again and again.
Italian Sausage, Kale, Zucchini Quiche
via designer bags dirty diapers
ingredients:
1 pie crust
1 lb. hot italian sausage, browned
1/4 c. chopped sun dried tomatoes
1 1/2 c. baby kale
1/2 large white onion, sliced thin
1 small zucchini, sliced
2 c. gruyere cheese
6 eggs
3/4 c. milk
3 tbsp flour
1/2 tsp baking powder
salt & pepper, to taste
directions:
Preheat oven to 400 degrees and cook pie shell for 10 minutes. Remove from oven and cool.
Brown sausage and drain fat. Set aside. Next, add olive oil to a pan and sauté onions and zucchini for 5- 7 minutes. Add in the kale and sun-dried tomatoes and cook until the kale is slightly wilted. Remove from heat and stir in cooked sausage. In a separate bowl whisk 6 eggs together with flour, milk, baking powder, salt and pepper. Stir in sausage mixture until combined. Lastly, stir in cheese. Pour the mixture into the pie crust and bake at 350 degreed for 30-40 minutes.
Enjoy!
xx