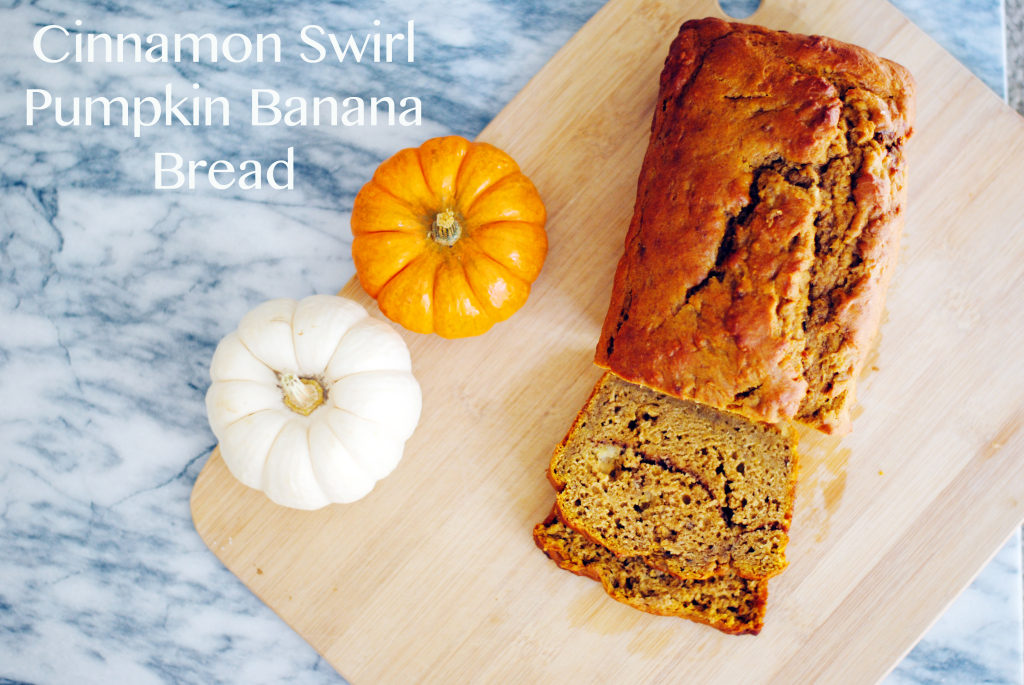 I waited until at least October before I whipped out the pumpkin recipes and now there's no turning back. Last week I had two ripe bananas needing to be used and what better time to test out a new pumpkin bread recipe? My dad got me hooked on the Trader Joe's version of cinnamon swirl bread so I loved the sweet addition to an otherwise standard fall treat. This one has just the right amount of pumpkin flavor. To me, this recipe is meant to be eaten at any time of day. Why save all the good stuff for breakfast?
Cinnamon Swirl Pumpkin Banana Bread
via the messy baker blog
ingredients:
2 cups whole wheat flour ( or 1 c. AP and 1 c. wheat flour)
3/4 tsp baking soda
1/2 tsp kosher salt
1 tsp pumpkin pie spice
3/4 c. pumpkin puree
2 ripe bananas
3/4 c. brown sugar
4 tbsp unsalted butter, melted
1/3 c. greek yogurt (vanilla or plain)
2 large eggs
1 tsp vanilla
1 c. pecans toasted and chopped (optional)
cinnamon swirl:
1/4 c. sugar (I used less)
1 tsp cinnamon
directions:
Pre-heat oven to 350 degrees F. Use non-stick spray to coat a 9×5 loaf pan and set aside.
In a small bowl, combine the flour, baking soda, salt, pumpkin pie spice and whisk to combine. In a large bowl, add the pumpkin puree and bananas. Mash together and add brown sugar, butter,  yogurt and whisk to combine. Add eggs and vanilla. Stir to combine. Fold dry ingredients to the wet ingredients until just combined. Fold in chopped pecans if using. For the cinnamon swirl, stir together the sugar and cinnamon.
Add half of the batter to the bread pan and top with cinnamon swirl mixture. Top with the remaining batter and place in the oven. Bake for 50-60 minutes.
xx