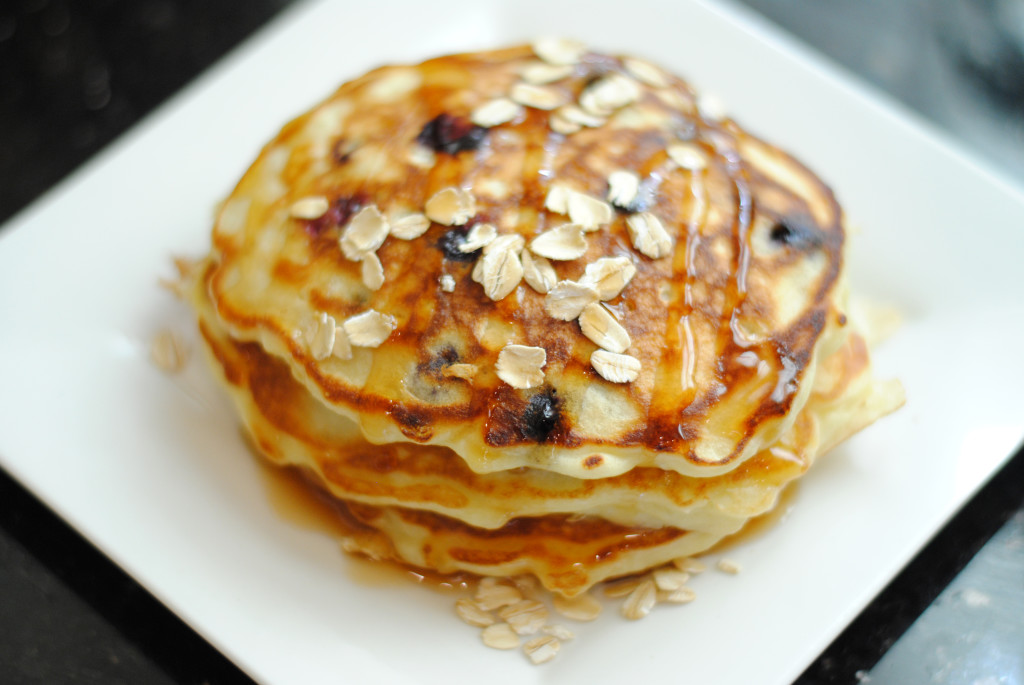 Bringing you back to back weeks of breakfast foods. Oops. Hopefully y'all were lacking in the brunch food options and ready for some new ones. I whipped these blueberry yogurt pancakes up for Sunday morning breakfast and they were so good! Normally pancakes fill me up quickly, but not for very long. These pack extra protein with the added greek yogurt and the rolled oats. On the next batch I'm going to add a dash of cinnamon and/or vanilla extract, but they're delicious just the way they are.
Blueberry Oatmeal Yogurt Pancakes
via damn delicious
ingredients:
1 2/3 c. all-purpose flour
2/3 c. old fashioned rolled oats
2 tbsp sugar
1 1/4 tsp baking powder
1/4 tsp baking soda
1/4 tsp salt
1 c. plain greek yogurt
1 cup milk
4 tbsp unsalted butter, melted
2 large eggs
1 c blueberries
maple syrup, for serving
directions:
Preheat oven to 200 degrees F and a nonstick griddle to 350 degrees F.  In a large bowl, combine flour, oats, sugar, baking powder, baking soda and salt. In a large glass measuring cup or another bowl, whisk together yogurt, milk, butter and eggs. Pour mixture over dry ingredients and stir using a rubber spatula just until moist. Add blueberries and gently toss to combine.
Lightly coat a griddle or nonstick skillet with nonstick spray. Scoop 1/3 cup batter for each pancake and cook until bubbles appear on top and underside is nicely browned, about 2 minutes. Flip and cook pancakes on the other side, about 1-2 minutes longer; keep warm in oven. Serve immediately with maple syrup.
Enjoy!
xx