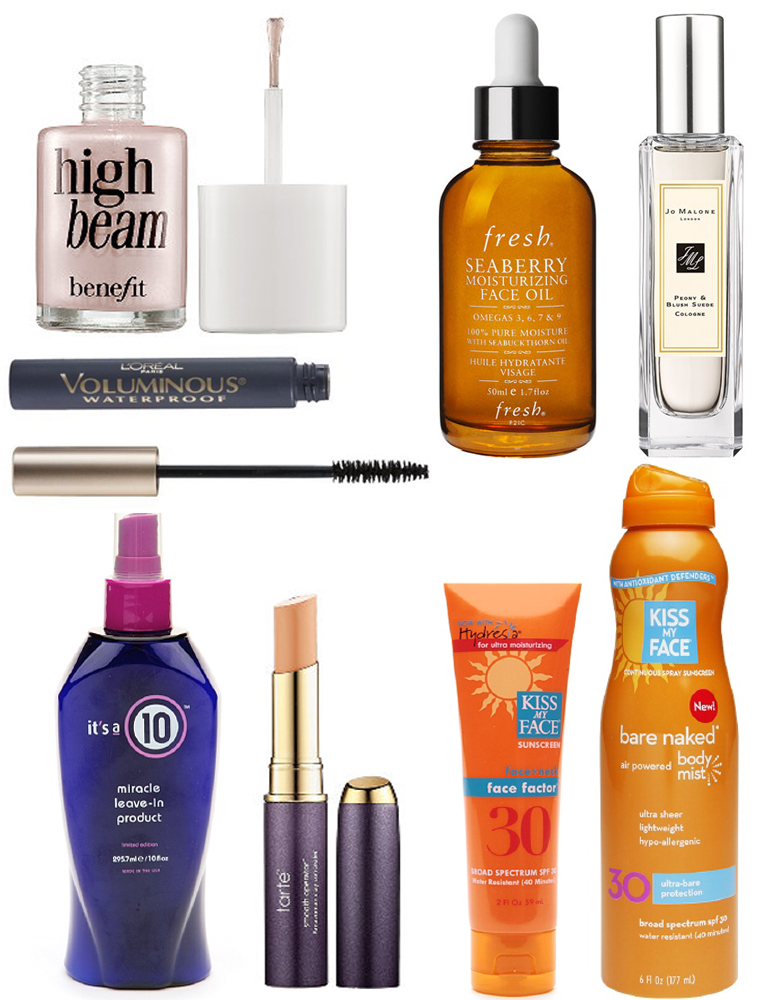 During our honeymoon I was much more focused on catching the sunset with a glass of wine and Brian than I was about allowing myself time to get ready for dinner. Each day/night I relied on the same beauty products that kept things minimal (because who wants to spend a while fixing your hair and makeup when you're on vacation? Not this girl) and easy. These are the little gems that kept me beating the heat and fresh faced:
> I've had this little jar of High Beam for what feels like centuries, but you only use a little each time so it will last you forever. I dabbed three little dots on each of my upper cheekbones in an upward line and then blended them in lightly. You can also dab some over your eyebrows, down your nose and on your cupids bow. This is one of my favorite products for adding highlights and a sun-kissed look to your skin.
> At night I was all about hydration for my face. This Fresh oil smells fantastic and has a blend of natural oils to combat aging, free radicals and dryness . It soaks into your skin quickly and isn't the least bit greasy.
> Certain scents always take me back to a time or place and for wedding/honeymoon I wanted something special. I stuck with my favorite brand, but went with a new scent in their travel size.
> Simple drugstore waterproof mascara is all I wear makeup-wise during the day.
>It's a 10 is my hair saver. It literally does it all, but most importantly untangles and protects against heat.
> I go pretty bare on my skin while on vacation and just used this Tarte concealer stick to cover any blemishes or uneven skin tone. It blends in so creamy and smooth.
> This sunscreen was a favorite for both of us. It doesn't clog your pores and is made without parabens or artificial colors or fragrances.  For the rest of our body we went with the spray version for easy application.
xx