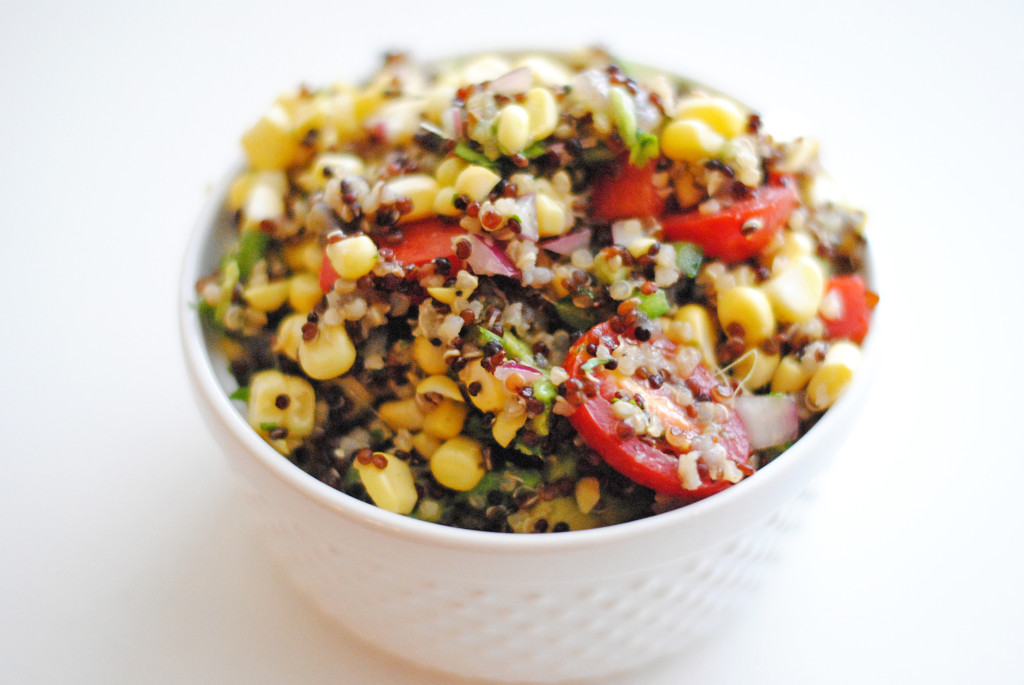 I'm always game for testing out a new quinoa recipe. Add in some summer fresh corn, cherry tomatoes and avocado and I'm on board. B claims quinoa normally doesn't have much flavor to him, but this one definitely does! Like most of the other quinoa recipes I've made, this one makes a big batch and is one of my favorite leftover lunches throughout the work week. It's a super filling dish alone, but you could always pair it with some grilled chicken or fish for more substance.
Corn Avocado Quinoa Salad
via baker by nature
ingredients:
3 tablespoons olive oil, divided
1 small red onion, diced
1 cup pre-washed quinoa
salt, to taste
2 cups vegetable broth
4 ears corn
1 cup cherry tomatoes, cut in half
1/4 cup thinly sliced red onion
1 small red bell pepper, thinly sliced
3 scallions, white and green parts thinly sliced
1 small jalapeno pepper, seeded and finely chopped
1/2 cup fresh cilantro, roughly chopped
3 tablespoons fresh lime juice, about 2 small limes or one really juicy big one
1 ripe avocado, chopped
directions:
Heat 2 tablespoons of olive oil in a medium sauce pan over medium heat. Add the diced onions and cook, stirring frequently, until soft and translucent, about 6 minutes. Add the dry quinoa to onions and continue cooking, stirring *constantly, for 3 minutes. Add vegetable broth and salt. Turn the heat up to high and bring to a boil. Cover pan tightly with lid, turn heat down to low and simmer for about 15 minutes, or until all of the liquid has been absorbed and the quinoa is cooked. Spoon the cooked quinoa to a heat safe mixing bowl and place in the refrigerator to cool.
Bring a large pot of water to a rolling boil. Add corn and cook corn for 4-5 minutes. Rinse with cold water until cool. Once cooled, cut corn kernels off cobs and place the kernels in a small bowl. Set aside.
When quinoa has cooled to at least room temperature, add the remaining tablespoon of olive oil, tomatoes, onions, corn, red bell pepper, scallions, jalapeno, cilantro, remaining and 2 tablespoons of lime juice. Taste and adjust seasoning if necessary.
Place avocado chunks in a small bowl, squeeze remaining lime juice over it, add a pinch of salt, and carefully (avocado is very delicate and mashes easily) stir to coat. Toss in avocado pieces on top of the salad.
Enjoy!
xx