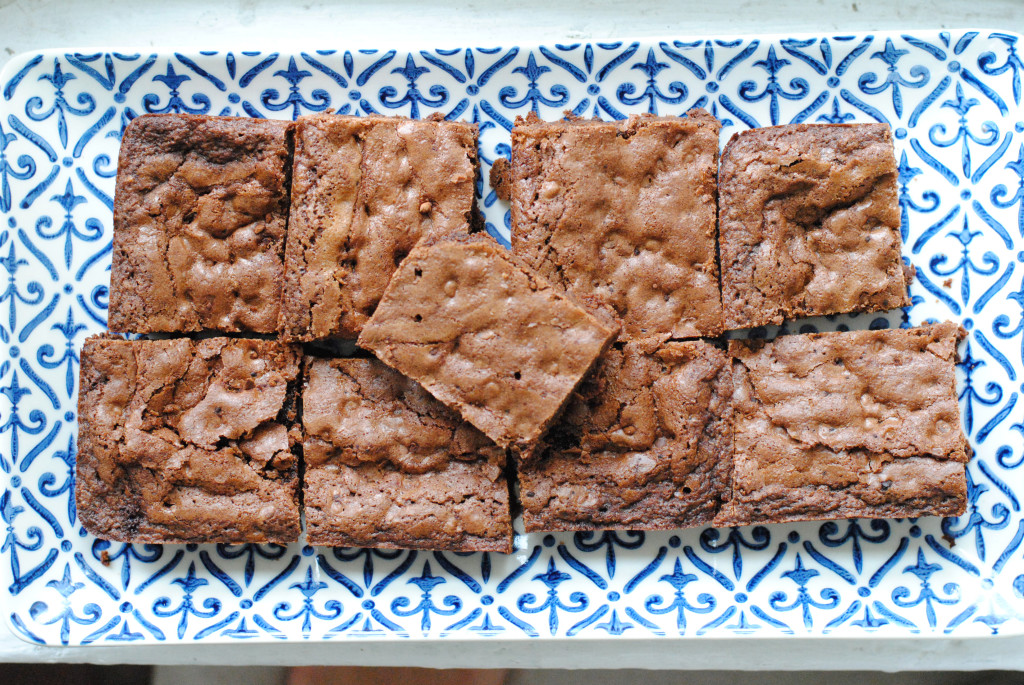 It's been far too long since I've shared a sweet treat with y'all! Homemade brownies are something I never used to make from scratch. They always seemed like more work than necessary when the boxed kinds were already so good. Until I tried this recipe that is. These brownies are super easy, delicious and ready in under 40 minutes. Top with a scoop of vanilla bean ice-cream if you're living on the edge. With the holidays approaching there are parties non-stop. These are quick treats you can whip up and walk out the door with!
Easy Homemade Brownies
via food.com
ingredients:
1/2 c butter, melted (1 stick)
1 1/2 c granulated sugar
1/2 tsp vanilla extract
2 eggs
3/4 c all-purpose flour
1/2 c unsweetened cocoa powder
1/4 tsp salt
1/4 tsp baking soda
1 c semi-sweet chocolate
directions:
Heat oven to 350 F.  Melt the butter and lightly grease a pan of your liking (I used an 8×8). In a large bowl, combine the flour, cocoa powder, salt and baking soda. In another large bowl, combine the sugar, melted butter and vanilla extract. Once combined beat in the eggs, one at a time, mixing well after each until thoroughly blended. Gradually add in the flour mixture to the egg/sugar mixture. Mix the chocolate chips into the batter.
Bake for 20-25 minutes. (The brownies are done if you stick a toothpick in the middle and it comes out clean.) The batter is going to rise, but it will sink.
*I ended up cooking mine about 5 minutes longer
Enjoy!
xx