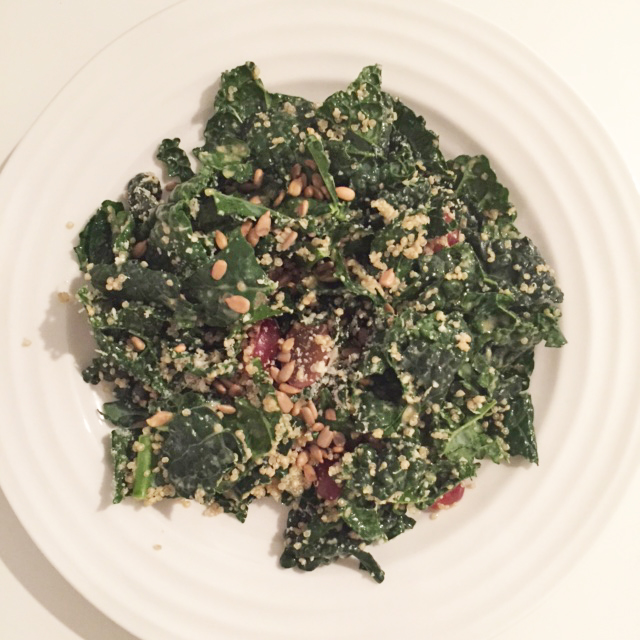 Simple salads are the lunches I crave most. When it's packed with superfoods like kale and quinoa I'm even more on board. The organic tuscan kale from Trader Joe's is my absolute favorite for recipes. You can use curly, or any type of kale for this, but the tuscan is just so good.
Kale Quinoa Salad
via foodswithjudes
ingredients:
1 1/2 cups cooked quinoa
5 cups kale, thinly sliced
1 3/4 cups red grapes, sliced in half
1/2 cup roasted sunflower seeds, unsalted
1/2 cup grated parmesan cheese
dressing:
2 tbsp fresh lemon juice
2 tbsp olive oil
1 tbsp raw honey
1 tsp tahini
1 tsp dijon mustard
1 1/2 tsp crushed garlic
salt and pepper, to taste
directions:
Cook quinoa per package directions. Add all the dressing ingredients together in a jar and shake vigorously. Tear kale leaves off stem. Stack leaves on top of each other and thinly chop kale. Add shredded kale to a large bowl. Toss dressing with kale and message the dressing into kale for a couple of minutes. Add remaining salad ingredients and combine.
Enjoy!
—-
Also, two other side notes I wanted to mention this Tuesday:
weekly Q&A:
I'd love to start doing a Q&A on Friday's with my 'Weekend + Links' series. I'm thinking of answering 2-3 questions per week that y'all ask! It can be anything you want to know — favorite healthy recipes, where something is from, what my full time job is, etc. You can email me questions (turqandteale[at]gmail.com), comment on a blog post with one, tweet me, ask on Instagram, whatever is easiest! Thought this would be a fun way for each of you to get to know a little more about me and touch on something that I maybe haven't covered on a blog post.
—
email:
While I'm a huge supporter of Bloglovin, I know not everyone uses it. If you don't, you can now follow Turquoise & Teale via email subscription! Just add your email address to the 'subscribe' option on the right sidebar and you'll get each post emailed to you at 9AM each morning.
—
xx