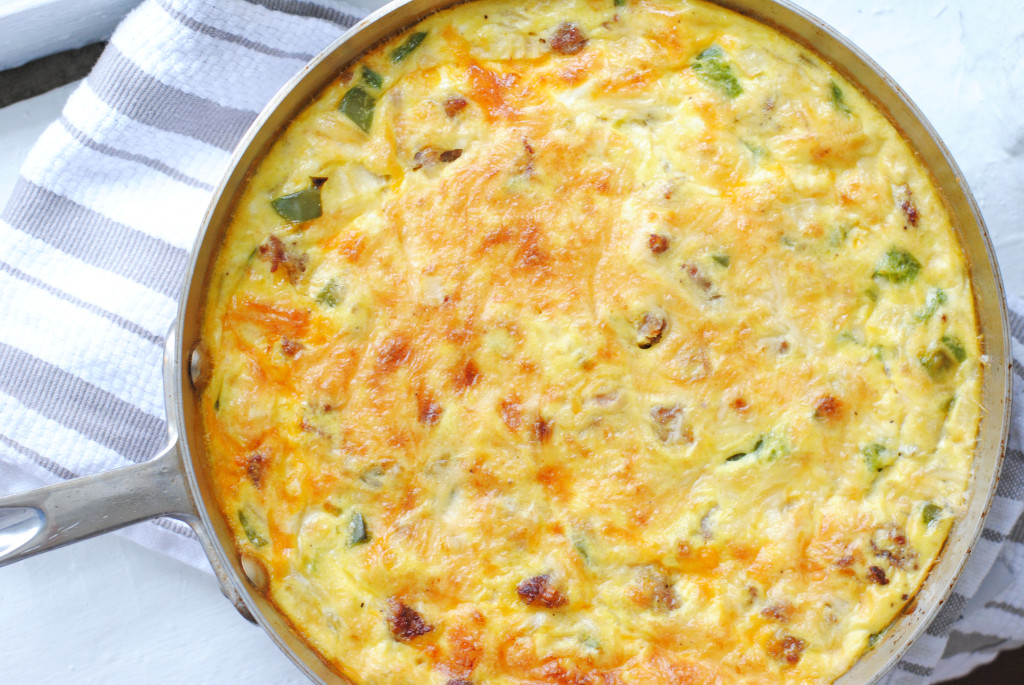 Welcome back friends! How was everyone's holiday? A mini break was good, was it not? I love that it's another short work week and then it's time to ring in 2016. My family came in town from Charleston for Christmas and we started our morning with this crustless quiche. While it looks like a frittata, it's packed with cheesy goodness, veggies and protein. Dare I say one of my favorite (healthy) breakfast recipes lately? You could easily customize this to fit your taste buds or what you need to use up in the fridge! Thinking this would be perfect to wake up to on New Year's Day…
Skinny Crustless Quiche
via sallys baking addiction
ingredients:
3 eggs
3 egg whites
3/4 cup milk
3/4 tsp salt
1/4 tsp ground pepper
2/3 cup shredded cheese
2 three ounce cooked sausages
1/4 c yellow onion, diced
1 large green pepper, diced
1 clove garlic, minced
2 tbsp grated parmesan
directions:
Turn oven to 350F degrees. In a bowl whisk together eggs, egg whites, milk, salt/pepper and  cheese together until well mixed.
Spray a 9 or 10 inch skillet (that can also be put in the oven) with non-stick spray and heat over medium-high heat. Avoid too large of a skillet or the quiche will be thin. Add sausage, onion, and garlic to the skillet. Stir frequently and cook for 4-5 minutes until the sausage is browned. Then add the green pepper and cook for 3 minutes, stirring occasionally. Stir in the egg mixture that you made in the first step and top with fresh parmesan.
Cook for 45 minutes or until filling is set and no longer moves. Let cool and enjoy!
xx