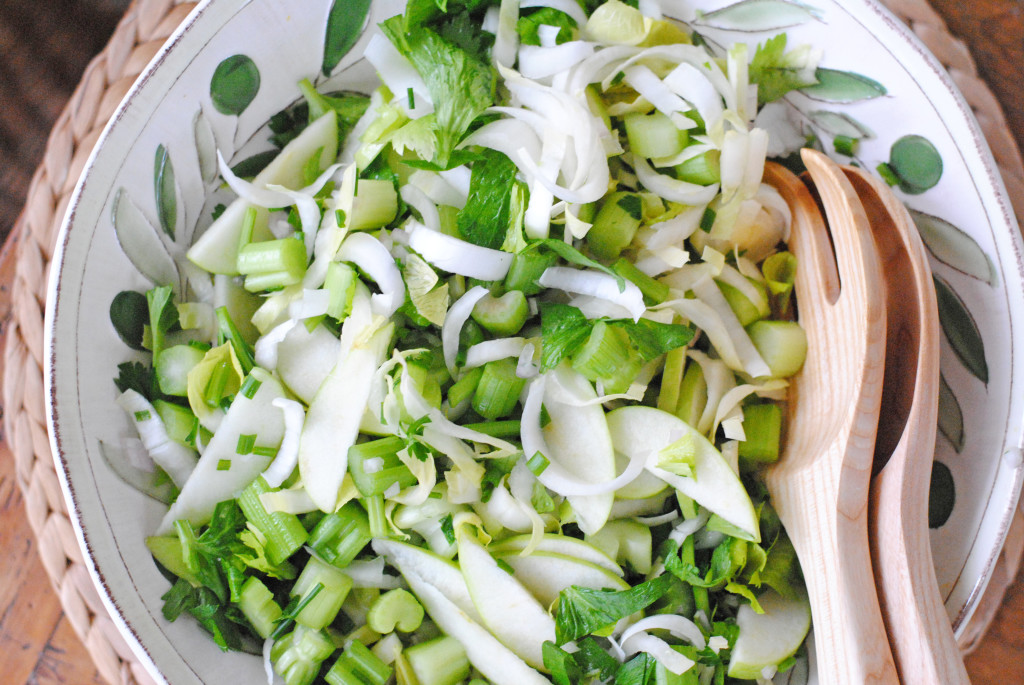 I love getting feedback from y'all that you'd like to see even more health and fitness post in 2016! Both of those topics are a major passion of mine and I'm excited to bring that side to T&T. One Eared Stag is a great restaurant in Atlanta and where the recipe for this salad came from. If you don't live local, you can re-create the below and have a piece of the south with you! The peanut dressing is delicious and this salad had me wondering why I don't cook with endives more. I love that added crunch/crisp! This is great as a lunch option or a side with dinner.
Apple and Celery Endive Salad
via one eared stag
ingredients:
1 bunch of celery, sliced
2 pieces Belgian endive, sliced
1 granny smith apple, sliced thin
1 1/2 cups Manchego cheese, rind removed & thinly sliced
1/4 cup chopped parsley
1/4 cup chopped celery leaves (use from the celery bunch above)
1 shallot, diced
2 tbsp finely chopped chives
peanut vinaigrette dressing (below)
directions:
Combine all ingredients in a bowl and top with peanut vinaigrette dressing. Mix to combine and enjoy!
—
peanut vinaigrette dressing:

1/2 cup extra virgin olive oil
1/4 cup + 2 tablespoons raw peanuts
1/2 chile de arbol, seeded and minced (I didn't have this and left it out)
3 tablespoons champagne vinegar
4 teaspoons lemon juice
1/2 teaspoon kosher salt
1/2 teaspoon freshly ground pepper
dressing directions:
In a small saucepan, heat olive oil and peanuts together over low heat until peanuts just begin to sizzle, about 5 minutes. Pour warm peanuts and oil into the bowl of a food processor and pulse just until roughly chopped, about 5 pulses. Immediately pour peanut mixture into a medium bowl. Add chile de arbol, and let sit 10 minutes. Whisk in vinegar, lemon juice, salt and pepper. Taste for seasoning. Can be made ahead and refrigerated up to one week. Return to room temperature and whisk to combine before serving.
xx