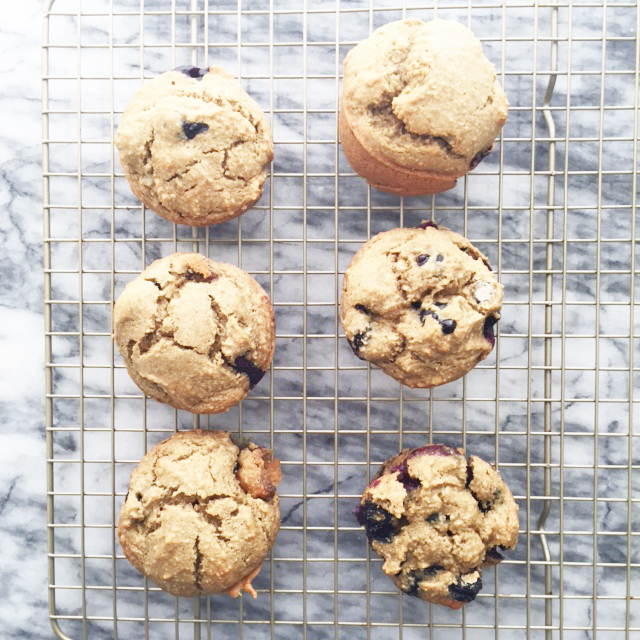 This past Saturday we lucked out with a snowy, freezing day and two days off in a row for Brian. What better way to celebrate than with some homemade, healthy blueberry muffins? I hadn't cooked with oat flour or almond meal before and I loved the way the both came together in this recipe. If you don't have oat flour and want to try making it at home, you can pulse rolled oats in your food processor until it's a flour like consistency. One cup of rolled oats should yield one cup of oat flour.
These have no added refined sugar, are dairy and gluten free and even sneak some apple cider vinegar in them (I promise you can't taste it). They're also some of the best, healthy muffins I've ever had. Brian devoured two and even gave them the man seal of approval. Always important for healthy recipes, right? Make these. I can't even explain how insanely good they are.
Healthy Blueberry Muffins
via ambitious kitchen
ingredients:
1 cup oat flour
1 cup packed almond meal
1/4 tsp salt
3/4 tsp baking soda
1 egg, slightly beaten
1/3 cup pure maple syrup
1 tsp vanilla extract
1/2 cup unsweetened almond milk
1 tbsp olive oil
1 tsp apple cider vinegar
1 cup fresh blueberries
directions:
Heat oven to 350 degrees F. Spray a muffin pan with nonstick spray or rub with butter. In another bowl, whisk together 1 cup of the oat flour, almond meal, salt and baking soda. In another bowl, combine the egg, maple syrup, vanilla, almond milk, olive oil and apple cider vinegar.Next, add the dry bowl to the wet bowl and mix until smooth. Add in blueberries and gently stir. Fill muffin pan with batter and bake for 20-25 minutes. Let cool and then serve!
Enjoy!
xx