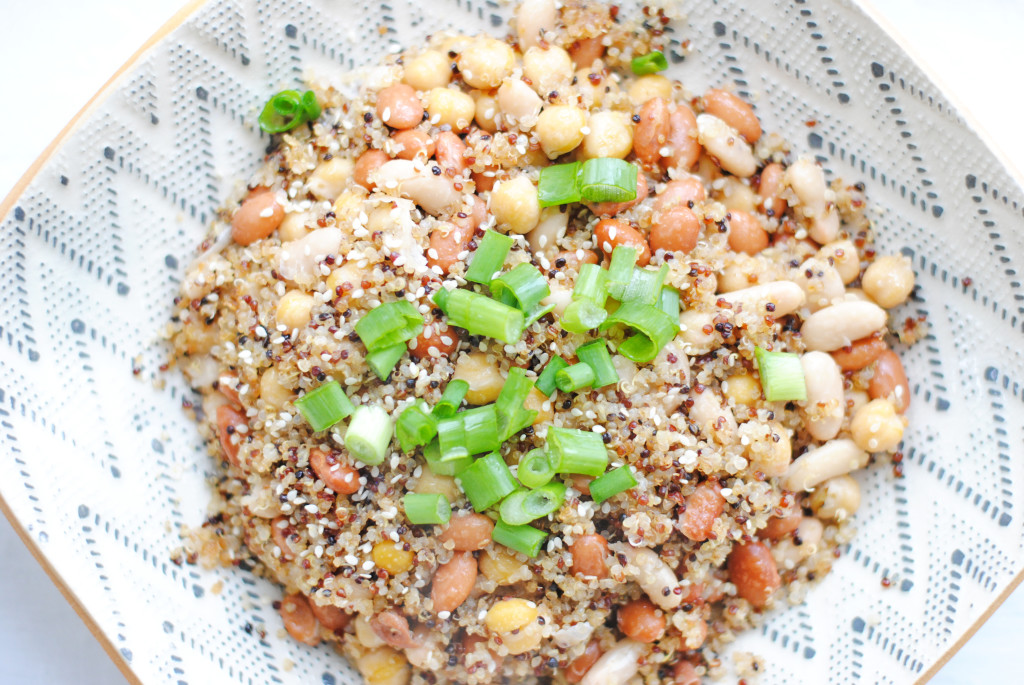 Quinoa is one of those foods that I really don't get tired of. I know, some people think it's tasteless and boring, but in my opinion it's all in how you prepare it. Cooked the right way it can have so much flavor and is a great, healthy meal option from breakfast to dinner. This crispy three bean quinoa skillet recipe is flavorful without being overwhelming and is delicious for lunch or dinner. Like most meals it's easily elevated with a poached egg and sriracha on top (try it- so good!). I had apportion of this recipe on it's own for lunch, but it'd also make a tasty side dish for dinner.
I've mentioned it before, but Seriously Delish is such a great cookbook filled with recipes that you'll actually make! I bookmarked at least half of the book!
Crispy 3 Bean Quinoa
via seriously delish
ingredients:
2 tbsp olive oil
1 tbsp toasted sesame oil
1 1/2 cups cooked quinoa
2 garlic cloves, minced
1/2 cup canned chickpeas, drained and rinsed
1/2 cup canned pinto beans, drained and rinsed
1/2 cup cannellini beans, drained and rinsed
4 scallions, sliced
1 tbsp sesame seeds
directions:
Heat olive oil and sesame oil in a large pan over medium heat. Add the cooked quinoa and garlic to the pan. Stir to combine and spread evenly over the pan. Cook until it becomes crispy, about 2-3 minutes. Stir the quinoa again and let cook for another 2-3 minutes. Turn heat to low and add in all of the beans. Cook for another few minutes until warmed throughout. Top with scallions and sesame seeds and serve.
optional: add a poached egg and srirarcha sauce to finish it all off!
*square serving bowl found here
Enjoy!
xx