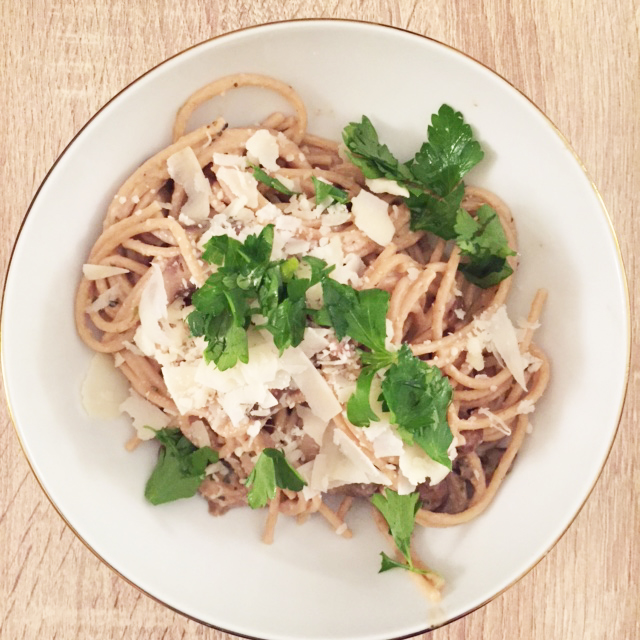 I'm not a fan of the mindset that eating pasta is terrible for you, which is why I reach for whole wheat spaghetti noodles when a craving strikes. Prepared in a healthy way, pasta can be a great (and delicious!) meal option that won't de-rail your healthy diet, I promise. This is a great vegetarian recipe, but some shrimp or chicken would also taste amazing in this! Fresh parsley really makes the perfect finishing touch on this. We of course added some fresh Parmesan, because that's just how we roll.
Garlic and Mushroom Whole Wheat Spaghetti
via pinch of yum
ingredients:
8 oz whole wheat spaghetti
2 tablespoons butter,
3 cloves garlic, minced
16 ounces fresh mushrooms, sliced
2 tablespoons flour
1 teaspoon herbes de provence
1½ cups milk (used almond milk)
3 tbsp olive oil
salt & pepper
additional ¼ cup  milk  (if needed)
¼ cup fresh parsley (to taste)
cheese (optional)
directions:
Prepare pasta following directions on the box. Once finished cooking, set aside and lightly drizzle olive oil over the noodles. Next, melt 1 tbsp of butter over medium heat. Add 1 clove of minced garlic and cook for 1-2 minutes. Add the mushrooms and cook, stirring occasionally, for 6-8 minutes. You want them to be lightly browned and softened. Set this mixture aside.
For the sauce add the last 1 tbsp of butter and heat over medium heat. Add the remaining minced garlic and cook for a few minutes. Add in the flour and herbs de provence and cook for 1-2 minutes. Whisk in the milk slowly and then let the mixture simmer until it thickens. Add salt and pepper, to taste.
To finish, combine the sauce, mushrooms and pasta together. If the sauce becomes thick add in milk or olive oil to thin it out. Top with parsley and cheese and serve!
xx