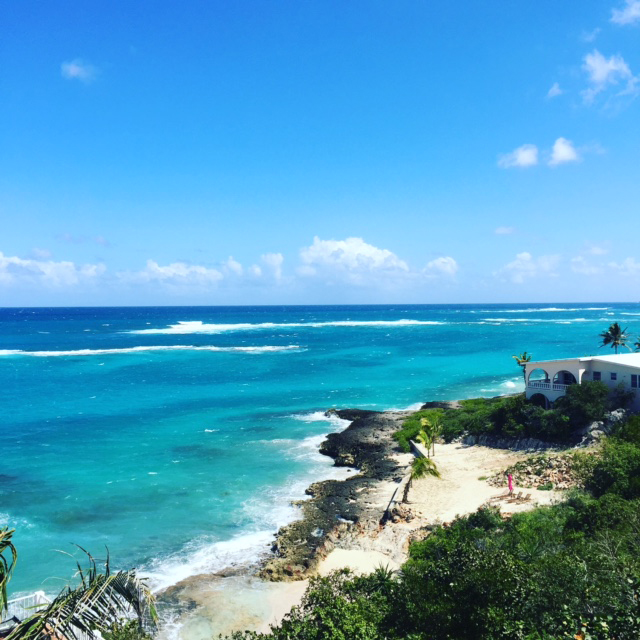 Just looking at this picture makes me want to pack my bags and head back to Anguilla asap. This island has hands down some of the prettiest blue water I've ever seen and my mom and I fell in love with the incredibly friendly locals that we met during our stay. Everyone was so genuinely nice on the island that they were refreshing just to be around. Multiple couples that we'd talk to during the day, or at dinner, shared with us that Anguilla was an island they'd been coming to for 15- 20 years plus. I can't wait to bring Brian back to explore even more of the island!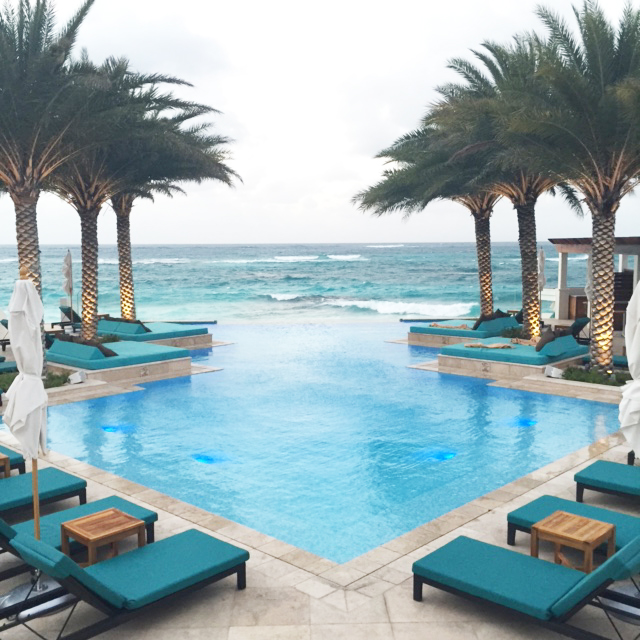 We grabbed drinks and dinner one night at the brand new Zemi Beach House. The hotel's interiors were stunning and I can't wait to go back and try their spa!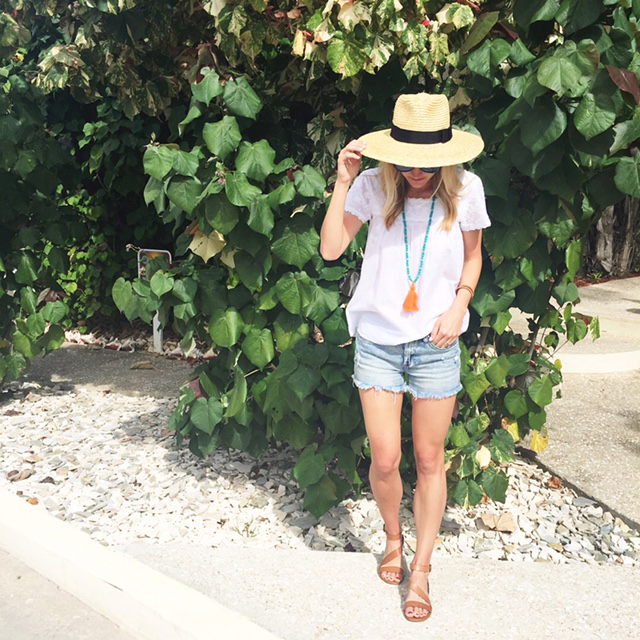 hat / embroidered top c/o (xs)/ jean shorts / necklace c/o /sandals / sunglasses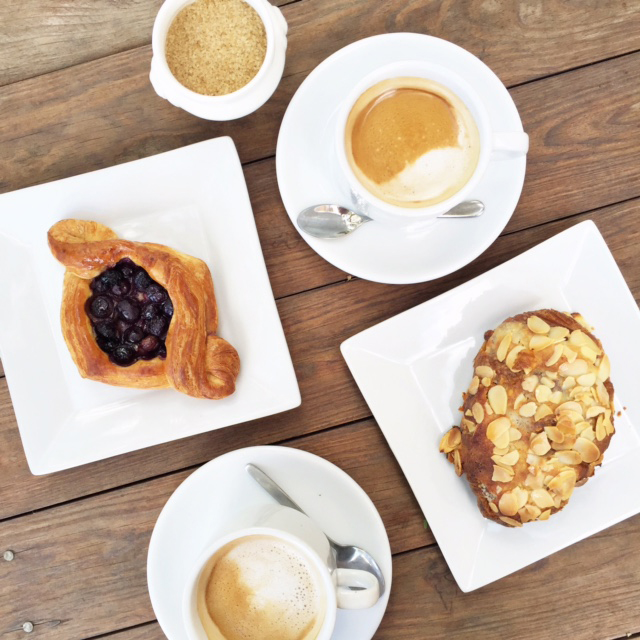 Breakfast at Le Bon Pain. Their coffee – oh my gosh. So good. You also can't go wrong with any of the pastries.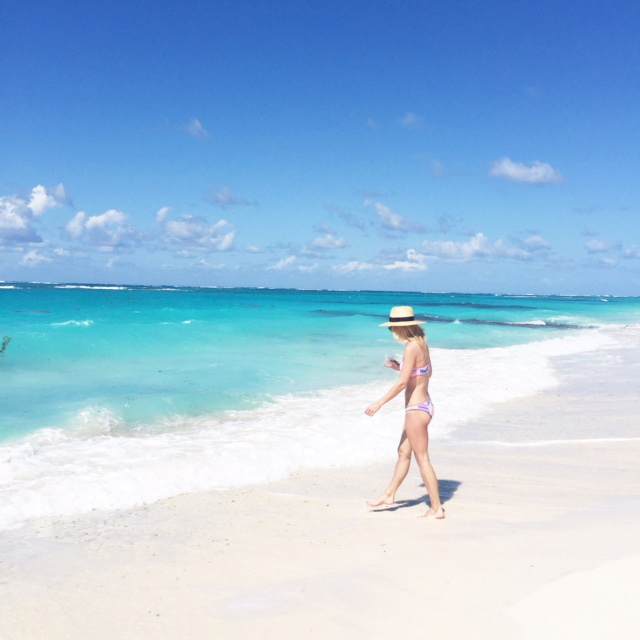 hat / bathing suit top & bottom (this color is older, but love the newer color & it's 55% off!)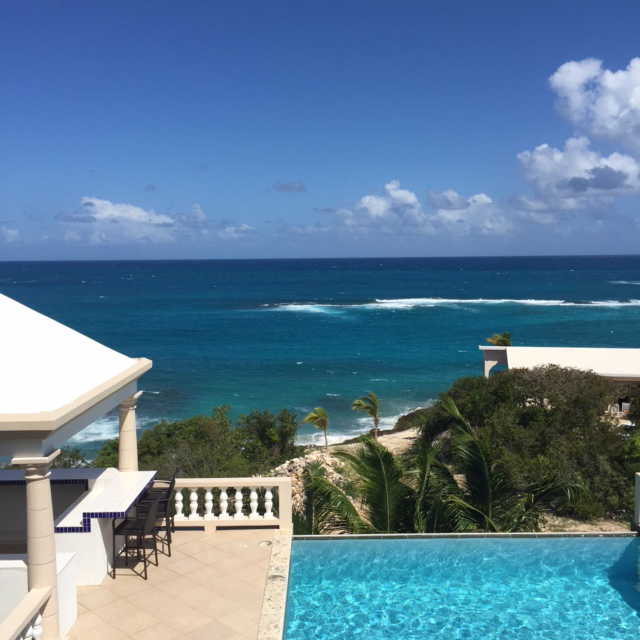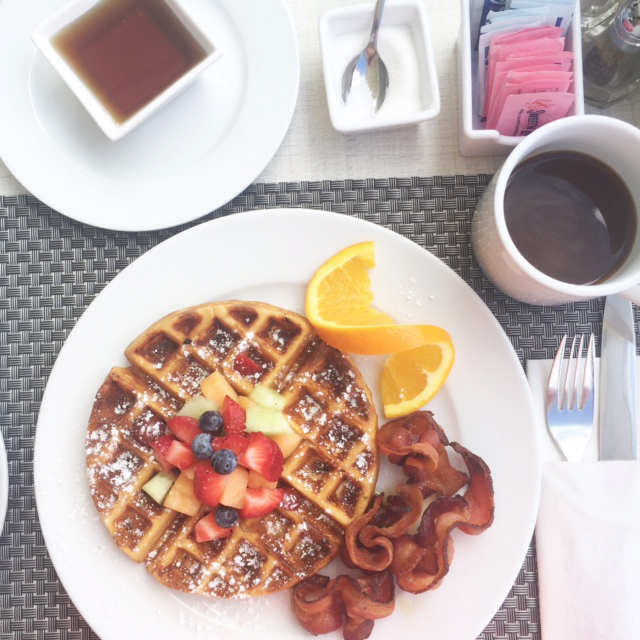 Breakfast at Ce Blue. Their waffles + fresh fruit were so good!
About Anguilla:
We rented a place through Opus Destinations and they helped us make nightly travel accommodations  with a driver and booked us seats on the semi-private charter back to the airport. I highly highly recommend this service and 100% would use it again! It's more than the public ferry and a taxi, but picks you up from the airport and transports you to Anguilla via a smaller boat, saving major time and potential sea sickness if the water is rough.
There are so many great inlets, coves and other smaller islands that you can checkout all from Anguilla. Each one has beautiful water and are accessible by either small boat, kayaks or just a drive to the other side of the island!
eat/drink:
Picante's: Awesome Mexican, mojitos and guacamole! If there's a great Mexican restaurant wherever we are, my mom and I will always find it!
The Viceroy: We ate dinner at Picante's and headed to The Viceroy for cocktails after. Get the spicy jalapeño margarita or blueberry margarita! If you go on Thursday night's they have a DJ and we had a blast!
Madeariman: Great dinner spot on Shoal Bay! The mahi mahi kebab was our favorite.
Dolce Vita: Possibly the cutest caribbean Italian spot and serving such good food! We split their homemade pasta with fresh lobster and it was so fresh and flavorful.
Le Bon Pain: Go early for breakfast since they run out quickly! The chocolate almond croissant, blueberry pastry and coffee were major hits with us.
visit:
Crocous Bay: We spent two days here and loved it. On Sunday's they have a live band and the food and drinks are delicious!
Shoal Bay: This area was definitely more relaxed and less commercialized, but I have a feeling that's going to change within a few years. New hotels are going up left and right, but the beach here is beautiful.
Rendezvous Bay: We didn't get to go here, but it's top of our list for our next trip. Everyone raved about this beach and said it's a great place to relax and grab a bite to eat.
Feel free to reach out with any questions!
xx