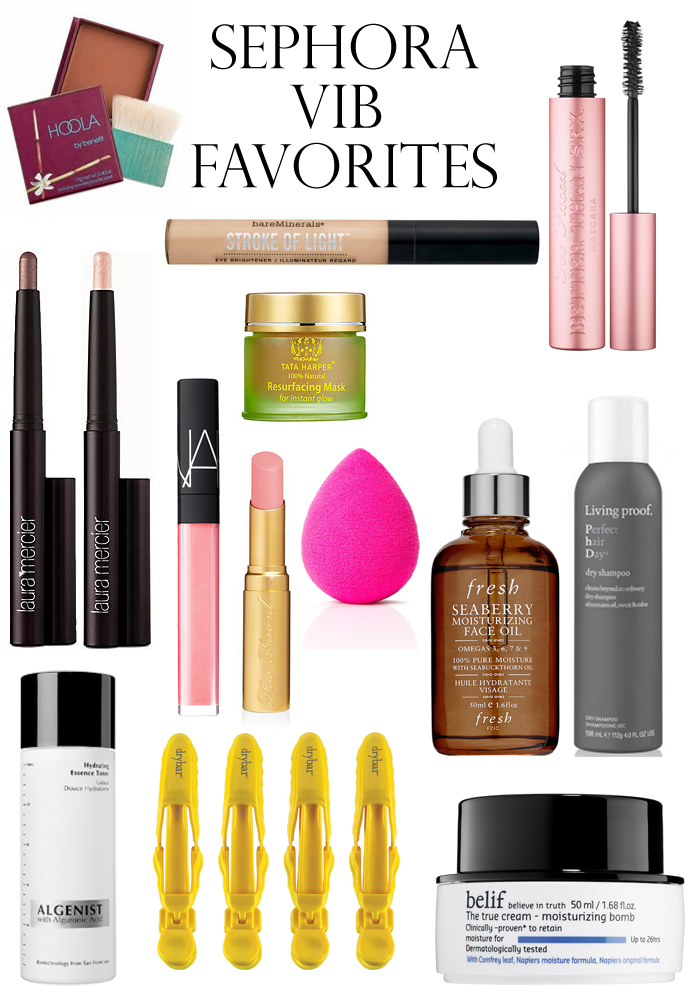 Happy Friday friends! Keeping up with the trend of major sales this week, Sephora's VIB sale kicks off today! Use code 'vibnote' at checkout to save 15% off everything! I'm thinking about pulling the trigger on this popular curling iron. I'm tired of my waves falling out fast and have heard rave reviews about this one! All of the above products are my tried and true, purchased with my own money, favorite items. Jumping right into my highly recommend purchases…
[Sephora VIB Sale Favorites]
Hoolah Benefit: This is one of my favorite face bronzers that gives the perfect natural glow. It's easy to apply and even better that it comes with a little brush that's handy when traveling.
Too Faced Better Than Sex: I've shared before that this is my 'stranded on a deserted island, one beauty item allowed' pick. Best mascara ever and get ready for your eyelashes to majorly pop.
Bare Minerals Stroke of Light: Great for hiding any dark circles under the eye or if you just want to brighten the under eye area. A little goes a long way and I apply this on top of my bronzer and blush.
Tata Harper Resurfacing Mask: Splurge worthy and totally worth it. I use this once a week and love how it just brightens my complexion. Leave it on for 30 minutes, pour a glass of wine and just relax while this gem works its magic.
Laura Mercier Caviar Eye Stick: A sales associate at Sephora sold me on these when I was looking for new eyeshadows last year. I start with the rose gold color and then add the amethyst color on the crease. Blend it in with your finger and layer on as little or much as you want. This stays put all day and won't fall under your eye like some eye shadow does.
Nars Turkish Delight + Too Faced Lip Creme: These two lip colors are great worn alone or layered together. Start with the Too Faced lip creme in 'naked dolly' and layer Nars 'turkish delight' on top. I always have these in my purse with me and love that neither is drying.
Beautyblender: As easy, guaranteed flawless way to apply your foundation. Wet the sponge and squeeze to remove the excess water. Tap into the foundation you want to use and gently tap all over your face, or over the desired area.
Fresh Seaberry Oil: I swear by this face oil and wore it nightly over eye cream until I ran out. I had a sun spot on my upper right cheek and am convinced this oil helped it fade away completely. All you need is 1-2 drops and pat it over your face before bed. One bottle lasted me seriously months.
Living Proof Dry Shampoo: Hands down, best dry shampoo ever. Yes, it's more than your average bottle of Batiste, but it will change your dry shampoo game. Spray on your roots, wait 30 seconds and then massage into your head.
Algenist Hydrating Toner: I never realized just how important toner was until after I started using this version. Growing up I used the Neutrogena one that has alcohol (so drying for your skin!) and hadn't really touched it since. This Algenist toner is oil and alcohol free and does' have parabens or sulfates. I apply this on a cotton ball and wipe it over my face after cleansing, but before any moisturizers or serums.  It essentially preps your skin for the next step and helps it better absorb the products you're spending good money on!
Drybar Hair Clips: These are my everyday hair necessities. I have a ton of hair that has to be segmented while styling. These clips won't crease your hair and hold it securely in place while you blow-dry or style.
Belif Moisturizing Cream: Moisturizer that doesn't make your face greasy is one I'm drawn to. This Belif cream is almost weightless feeling and quickly absorbs into my skin. I use this daily after my eye cream and before makeup. It's always important to apply makeup to a moisturized face!
(phew, that was a lot!)
xx