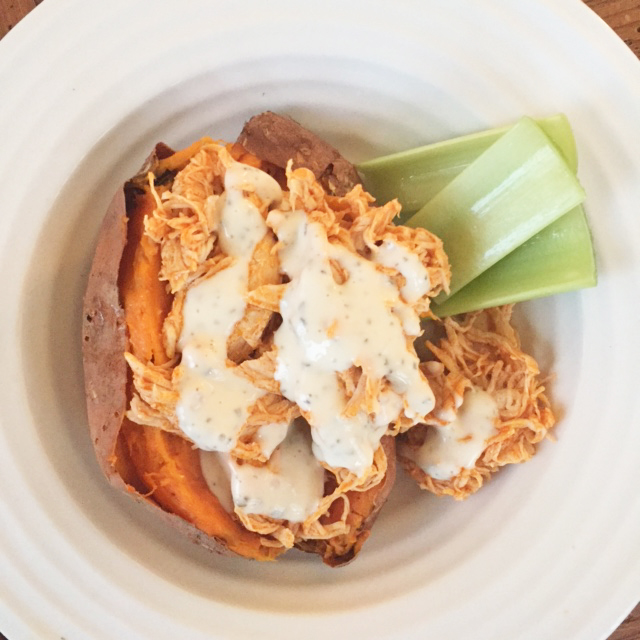 Sweet potatoes are one ingredient that I really want to focus on cooking more of. They're are so insanely good for you and packed with nutrients. Did you know they're considered both a vegetable and a starch? This recipe for skinny buffalo chicken stuffed sweet potatoes is 100% going to be re-made again and again. We topped ours with a drizzle (or heavy pour if you're like Brian's portion above 😉 ) of greek yogurt ranch dressing that I found at Whole Foods, paired with organic celery.
Also, who knew how it easy it was to make your own buffalo sauce? I'll be using that buffalo sauce recipe again in the future since now I know everything that goes into it. This was a meal that I had everything on hand for (love when that happens) and was budget friendly too!
Skinny Buffalo Chicken Stuffed Sweet Potatoes
via not enough cinnamon
ingredients:
2 sweet potatoes
2 boneless, skinless chicken breasts
greek yogurt ranch dressing, to taste
fresh cilantro or pasley, optional to taste
buffalo sauce:
1/3 cup frank's red hot sauce
2 tbsp unsalted butter
1/2 tbsp + 1/4 tbsp white vinegar
1/4 tsp Worcestershire sauce
1/4 tsp garlic powder
1/2 tsp cornstarch + 1/2 tbsp water
directions:
Preheat the oven to 400 F. Using a fork, poke holes all over the sweet potato. Place on a baking sheet and bake for 35-40 minutes, or until you can easily pierce it with a fork.
While the potatoes are cooking, heat a pot of water until boiling and add the chicken. Cook for 20 minutes, or until no longer pink in the inside. Remove the chicken and shred (if you have a Kitchenaid mixer this will shred it in no time!)
In another small pot, combine the hot sauce, vinegar, Worcestershire and garlic powder. Whisk the butter in until it's incorporated. Next stir in the cornstarch dissolved in 1/2 tbsp water. Stir until the sauce thickens, around 30 seconds. Remove from the heat and stir the shredded chicken in to combine.
Cut the sweet potatoes in half lengthwise (not all the way through) and fill with the buffalo chicken mixture. Drizzle with ranch or blue cheese dressing and enjoy!
xx