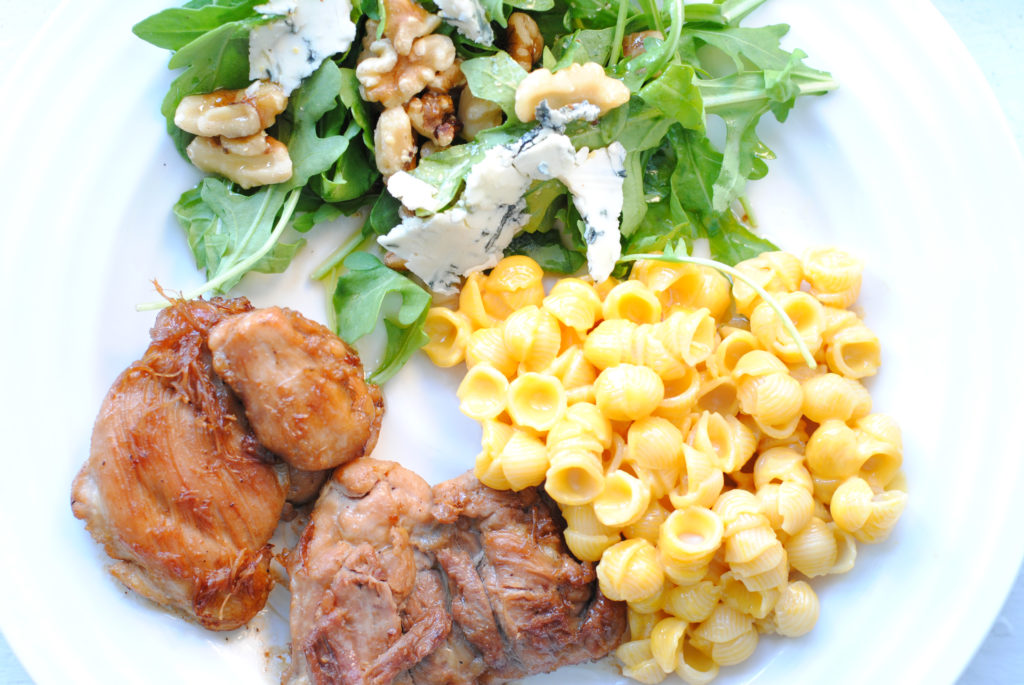 I'm a big fan of weeknight dishes that are easily thrown together but taste just as good as something that's been cooking for hours. That was exactly the case for our one skillet chicken dish last night. It was SO good and tasted like it had been marinating for hours instead of minutes. Most people tend to stick with using chicken breasts for recipes, but boneless, skinless thighs are so much more moist and flavorful —bonus that they also often cost less!  We paired the chicken with an arugula, blue cheese and walnut salad and mac and cheese for an added treat.
One Skillet Chicken Thighs
via kiwi and bean
ingredients:
1 1/2 tbsp apple cider vinegar
1 1/2 tbsp low sodium soy sauce
1 1/2 tbsp pure maple syrup
1/2 tsp ground black pepper
6-8 boneless skinless chicken thighs
himalaya sea salt
2 tbsp coconut oil
directions:
Mix the apple cider vinegar, soy sauce, maple syrup and pepper in a bowl and set to the side. Season with the chicken thighs with the sea salt. Add the coconut oil to a large skillet and heat over medium-high heat. Add the chicken thighs and cook 4-5 minutes. Flip over and cook another 4-5 minutes on the other side.
Pour the apple cider mixture over the chicken and increase to a boil. Once boiling, turn the heat down and  allow the mixture to thicken. Turn the chicken thighs over every 1-2 minutes to evenly coat. Once the chicken is cooked through, remove from the pan and serve!
xx