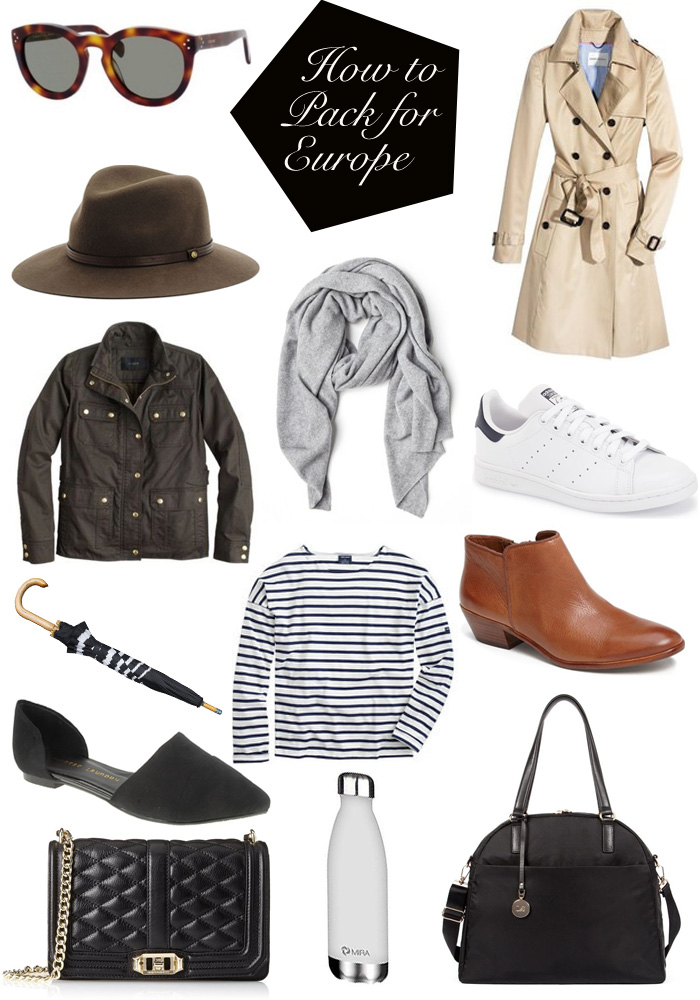 sunglasses / trench coat / fedora / scarf / sneakers
field jacket / stripe top / chelsea bootie / umbrella / d'orsay flat
crossbody / mira bottle / lo & sons bag
Packing for Europe can be a bit overwhelming, especially if you'll be there during the unpredictable spring weather. All of the above pieces are ones I was so glad to have with me and made dressing for the elements easier. We had a mix of sun and rain in Paris and lucked out with two beautiful days in London and only one downpour. Your favorite pair of sunglasses and a big umbrella (leave the tiny one at home, you'll want the coverage of a bigger one) will have you prepared for either. So you're not dropping a small fortune on bottled water everywhere, I always travel with my Mira bottle. It works the exact same as a Swell bottle, but for half the cost!
Springtime weather means a jacket is needed. I lived in both this trench coat and my trusty field jacket. I also brought a black blazer with me if I wanted to dress the outfit up a bit. This was my go-to while in London and everyone was rocking impeccably tailored suits and coats. These 3 jackets are closet staples that work for so many occasions.
I really wanted to limit the shoes that I packed since they take up valuable real estate in a suitcase. My Stan Smith sneakers were perfect for covering some serious foot ground in both cities. They are so comfortable and go with everything from cropped jeans to dresses. Size down, they run large! I highly recommend adding a great chelsea bootie to your collection. They were great for rainy days and also super versatile. I only packed one pair of black flats and they were my d'orsay sliders. These may not look comfortable, but I promise they are! Unfortunately for me we got stuck in a random downpour and these had to be tossed as soon as I got back to the hotel. Ordering another pair this week since I literally wear them all the time.
Layers are key. A great wool fedora and my favorite wrap/scarf were lifesavers. Tip on packing a hat if you don't want to physically carry it with you: stuff the top portion of the hat with your pajamas or any other clothes your bringing to help keep the shape. Put it on the bottom of your suitcase and pack the rest of your items around it, but don't put anything on top so you don't flatten it. Regardless of the time of year I'll always bring a scarf with me. Trains, plains and chilly evenings are easily solved with one!
I brought my larger hobo as a carry-on and for days when I wanted to bring a little more with me. If I could have paired it down, I would've chosen the cross-body everyday. I switched to the cross body for evenings and anytime I didn't bring my dslr camera with me. My Lo & Sons bag always travels with me and makes the best carry-on. Plus, if you take a day trip somewhere while traveling this holds a ton and is great for packing with clothes for an overnight stay or filled with a blanket, wine and food for a wine country picnic!
Hope this is helpful! If you have any specific questions send an email my way and I'll be happy to help!
xx