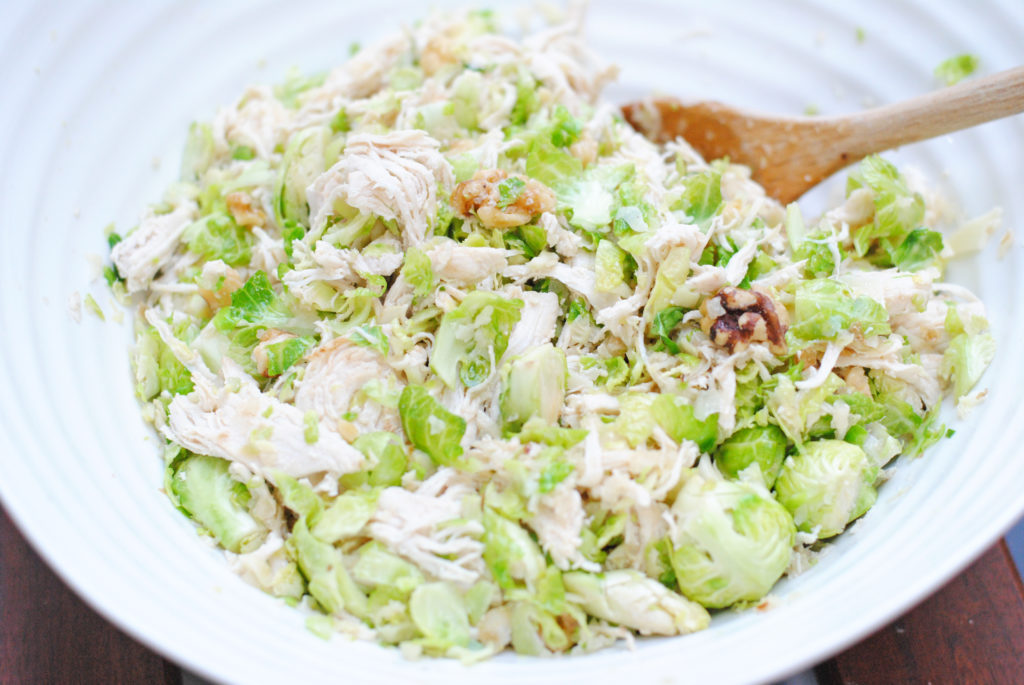 Brussels sprouts are one of my favorite veggies. If it's on a restaurant menu as a side option or a salad I'm ordering it. This chopped brussels sprout salad is easily a new favorite. It's flavorful, easy to prepare and a great light, summer meal. The homemade dressing in this dish really amps the flavor up. For a vegetarian option you could leave out the chicken and sub in extra sautéed veggies for a just as filling dish. We served this as our main dish with a side of fresh grown tomatoes, but it would also make a delicious side.
I plan on making this at the start of a week (reserving the dressing to add on as needed) for lunch the next few days since it holds up well. It's such a good quick and easy mid-day meal!
Chopped Brussels Sprout Salad
via pinch of yum
ingredients:
1 cup cooked and shredded chicken
4 cups sliced brussel sprouts
1/2 cup walnuts
1/4 cup Parmesan cheese
1/2 cup chopped onion
1 tbsp butter
juice from 1 orange
1 tbsp honey
2 tbsp olive oil
salt & pepper, to taste
directions:
Prep the chicken and set aside. Use a rotisserie chicken to save even more time here!
To make the dressing, heat the butter and onions in a pan over med-high heat for 5 minutes. Place the onions in a food processor and add in the orange juice, honey and olive oil. Puree until smooth. Add salt and pepper to taste. Put the shredded brussels sprouts in the pan and heat over high heat for 1-2 minutes.  Combine the chicken, brussels sprouts, walnuts and cheese in a large bowl and stir to evenly mix. Top with dressing and stir again to coat.
* Trader Joe's has a bag of shredded brussels sprouts that's great for recipes like this!
Enjoy!
xx