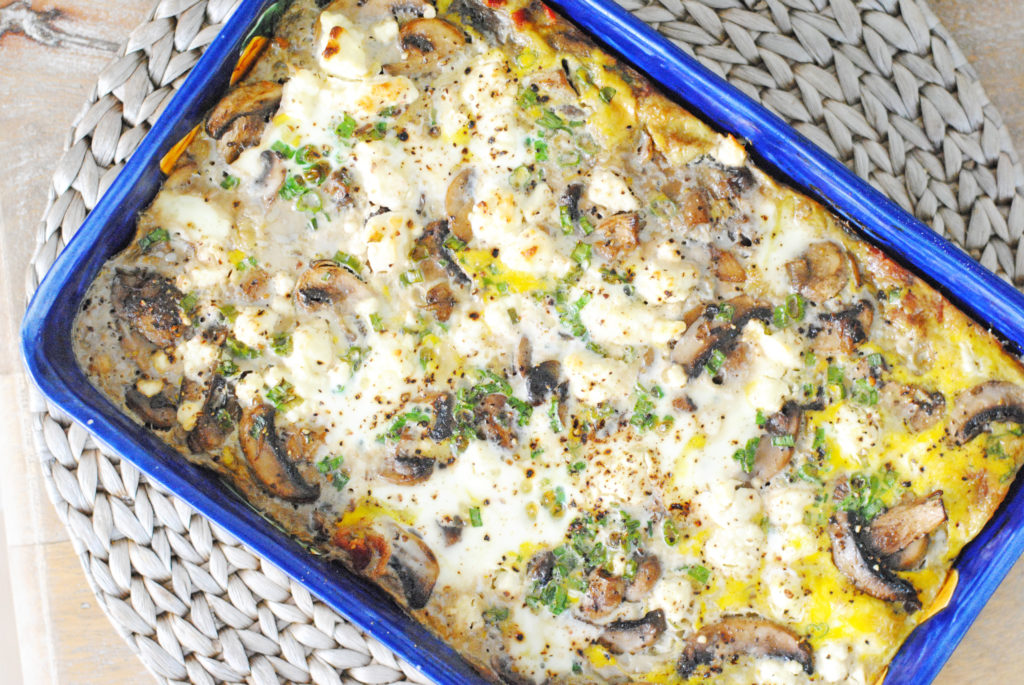 On weekday mornings I'm a creature of habit when it comes to my breakfast. On the weekends I like to take a little more time and make homemade acai bowls or make some type of eggs. This mushroom and feta baked eggs recipe is so flavorful and definitely going to be made again. It's easy to customize with turkey sausage, crumbled bacon or loaded with extra veggies. We re-heated leftovers the following morning and it was still delicious!
Mushroom and Feta Baked Eggs
via kalyn's kitchen
ingredients:
12-14 oz turkey/chicken breakfast sausage (sub for more veggies or bacon)
16 oz. sliced mushrooms
1-2 tsp. olive oil
1/2 – 3/4 cup crumbled feta cheese, about 4 oz.
8 eggs, well beaten
2 tbsp milk
himalaya salt & pepper, to taste
scallions, sliced
directions:
Heat oven to 375F. Spray 9″ X 11″ casserole dish with nonstick spray and set aside. Warm the olive oil in a medium pan. Brown the sausage/bacon until cooked through, or until browned if you're using all vegetables. Dump the sausage into the baking pan and then sauté the mushrooms in the same pan for 4-5 minutes.
Evenly distribute the mushrooms on top of the sausage/bacon/veggies. Top with feta and scallions. Pour the eggs (beaten) on top of all ingredients. Add salt and pepper, to taste. You can also stir ingredients to make sure it's the casserole is well mixed.
Bake 30-40 minutes or until the eggs don't jiggle in the middle and it's slightly brown on top.
Enjoy!
xx