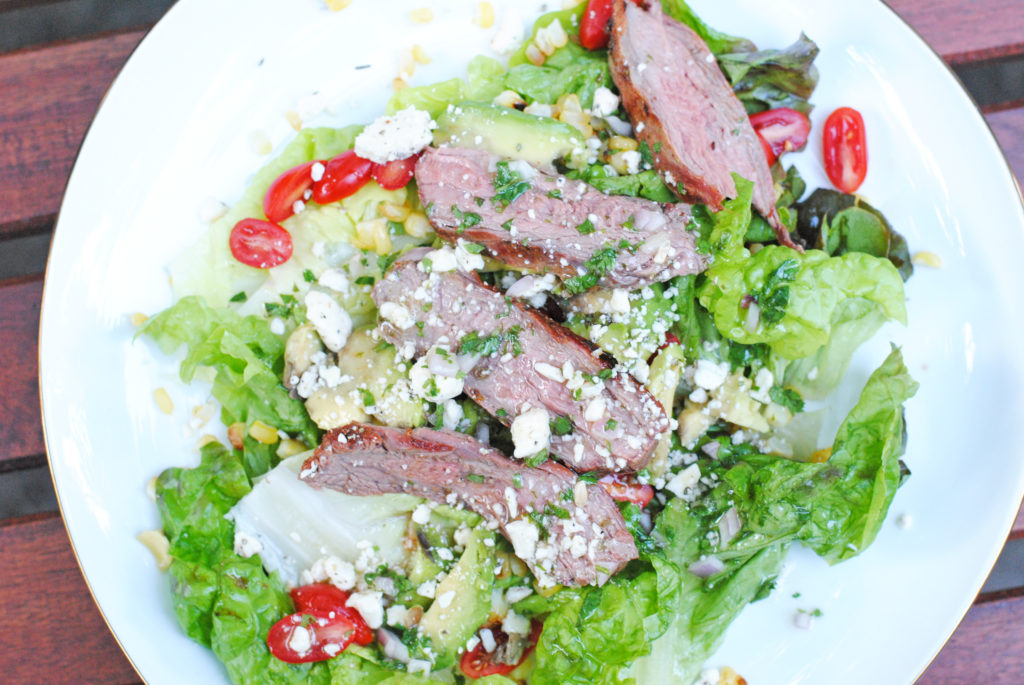 I love a good steak salad. It's one of my favorite things to order on a menu when I need steak but need to balance it out with a big serving of veggies. Big salads are some of my favorite, easy summer dinners. Really anything that doesn't involve turning on the oven is what I'm on board with (unless it's chocolate chip cookies; in which case preheat that oven and get the dough chilling!). This baja steak salad is so good and has tons of flavor! The charred corn, avocado, tomato and cheese all come together for some serious goodness. You could also top this with grilled shrimp, chicken or extra veggies if steak isn't your thing. Either way, you won't be disappointed!
Baja Steak Salad
via skinnytaste cookbook
ingredients:
spice rub:
1 tsp garlic powder
3/4 tsp kosher salt
1/2 tsp ground cumin
1/2 tsp paprika
1/4 tsp dried oregano
1/4 tsp cayenne pepper
1 lb flank steak
lemon-lime dressing:
2 tbsp fresh lime juice
1 tbsp fresh lemon juice
1 tbsp olive oil
1 tbsp minced scallions
1 tbsp minced fresh cilantro
dash of salt & pepper
salad:
2 medium ears of fresh corn
1 large head of romaine lettuce
1 medium avocado, sliced thin
1 cup heirloom cherry tomatoes, halved
1/4 c crumbled feta cheese
directions:
for the spice rub:  combine all spice ingredients in a small container and shake to combine. Season each side of the flank steak, rubbing the spices into the meat. Set aside.
for the dressing: combine all dressing ingredients together in a mason jar and shake to combine. Set aside
for the salad: heat a grill to medium-high heat. Place the corn (shucked) directly on the grill and cook, turning every so often for 20 minutes. Set aside once cooked. Turn the heat up on the grill to high and cook the flank steak on each side for 7 minutes, or until desired doneness. Remove from heat and let rest for 5 minutes.
Evenly distribute the lettuce on each plate and top with the avocado, tomatoes, feta cheese and corn (cut from the cob). Slice the steak against the grain and add to salad. Add dressing on top and enjoy!
xx