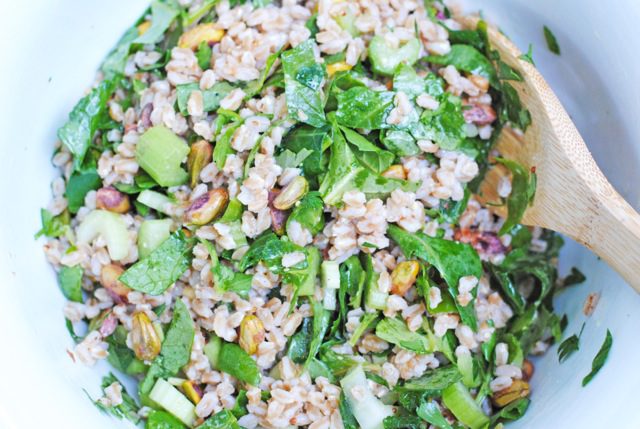 Is anyone else addicted to farro like I've become? Why haven't I cooked more with this grain? It was the Zoe's Kitchen 'live med' salad that had me wanting to test out any and all recipes featuring farro. For some reason I thought it was hard to cook or was like rice and had to spend a could amount of time on the stove. Nope and nope. So easy, so good and awesome mixed in salads. I made this side dish for dinner last week with my cousins and even had it the next day on its own for lunch. It's so good and a great summer dish!
Farro, Pistachio and Kale Salad
via daily burn
ingredients:
1 cup farro
1 clove garlic, crushed
1 tsp dijon mustard
1/4 cup extra virgin olive oil
3 tbsp apple cider vinegar
salt and pepper, to taste
2/3 cup toasted pistachios
1/3 cup parsley
3 stalks celery, finely chopped
2 cups kale, sliced thin
directions:
Heat 5 cups of water to boiling and add farro. Simmer for 25-30 minutes when the farro is softened. Drain, rinse with cold water and set aside. In a mason jar add the crushed garlic, mustard, olive oil and vinegar. Shake to evenly combine. Add salt and pepper to taste. Lightly toast the pistachios over low heat for a few minutes. In a big bowl add the farro, celery, kale, parsley and pistachio. Drizzle the dressing on top and stir to evenly combine.
xx