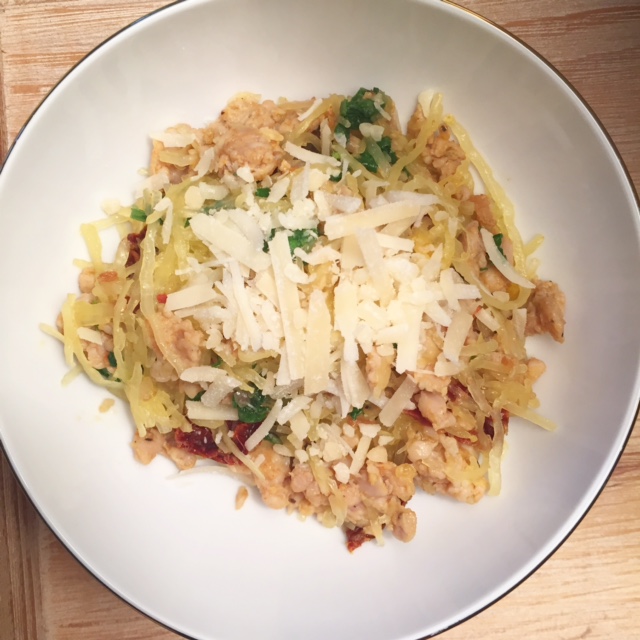 Spaghetti squash and zoodles are two of my favorite healthy food substitutes. They're a great way to get in extra veggies if you're looking to cut carbs or just want a healthy meal option! I've made this dish countless times, but never remember to photograph it in time–oops! Hoping this iPhone photo will do since it's too good not to share! Next time I make this I want to try adding in sautéed shrimp.
Sun-dried tomatoes, chicken sausage, arugula and fresh Parmesan cheese make this a simple weeknight meal that's as good as it is easy.
Sun-dried Tomatoes and Arugula Spaghetti Squash
via our italian table
ingredients:
1 spaghetti squash
2 tbsp olive oil
1 lb chicken sausage, casings removed
3 large shallots, diced
3 cloves garlic, minced
1/2 cup dry white wine
¾ cup oil packed sun-dried tomatoes, sliced thinly
1 bunch arugula, roughly chopped
freshly grated Parmesan cheese
directions:
Heat the oven to 375 degrees F. Slice the spaghetti squash in half length wise and scoop out the seeds. Drizzle with olive oil and flip over, baking inside facing down, onto to a baking sheet. Cook for 45 minutes, or until it's easily pierced with a fork. Using a fork, scrape down the sides of the squash forming 'noodle' like strings. Set aside.
Heat the olive oil in a skillet over medium heat. Add in the chicken sausage and cook until it's browned. Place the cooked sausage aside. Next, add the shallots and garlic and cook for 3 minutes. Gently pour the wine into the skillet and continue cooking until the liquid reduces to half the amount. Add in the sun-dried tomatoes and cook another minute until soft. Add the arugula and cook 3-4 minutes.
Add the sausage back into the skillet and stir to evenly mix. Lastly, add the cooked spaghetti squash to the mixture and stir to combine. Top with fresh Parmesan cheese and enjoy!
xx