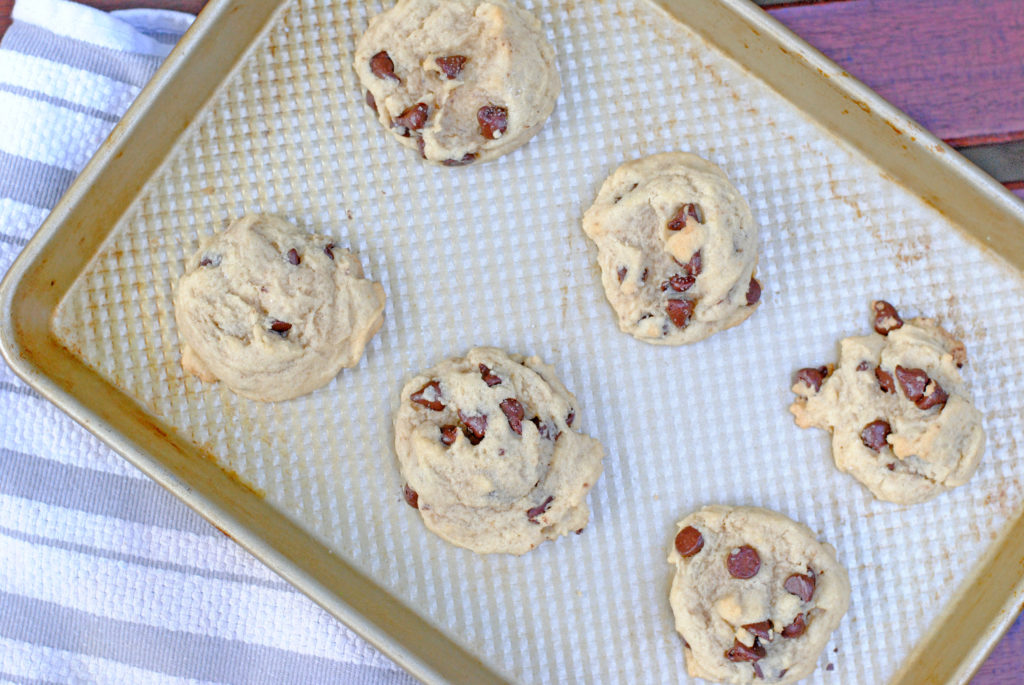 It always feels so good being back home after being out of town. We had the absolute best week traveling the coast of California and I'm working on a post with all the details to share soon! Yesterday I decided to make a batch of my favorite chocolate chip cookies and realized I'd never shared them on the blog. I've meant to, but they always seem to disappear before I could snap a photo of them!
It's not a huge batch, so you'll need to double it if you're feeding a crowd. I typically make the below amount, making six cookies and then freeze the remaining dough. A tip to keep this easy: using a cookie dough scoop, freeze the dough on a sheet pan for 30 minutes. Then, you can place them in a freezer bag or storage container and they won't stick together like they would with room temperature dough.  Saving half the batter also means that you're always only 9-10 minutes away from fresh baked chocolate chip cookies. Um, yes please!
My Favorite Chocolate Chip Cookies
via pinch of yum
ingredients:
1 stick (8 tbsp) of unsalted butter
1/2 c white sugar
1/4 cup light brown sugar
1 egg
1 tsp vanilla extract
1 3/4 cup flour
1 tsp baking soda
1/4 tsp sea salt
3/4 c chocolate chips
directions:
Heat the oven to 350 degrees F. Heat the butter for 3o seconds until it's soft, but not totally melted. Then, mix the butter and sugars with an electric mixer or by hand in a large bowl. Add the vanilla extract and egg next. Add in the flour, baking soda and sea salt. Once evenly combined, stir in the chocolate chips. I love using dark chocolate in this recipe. Scoop onto a prepared baking sheet and sprinkle with sea salt. This always takes these cookies to the next level and something I never forget! Trust, the salty sweet combo is out of this world. Bake for 9-10 minutes and let rest.
Enjoy!
xx