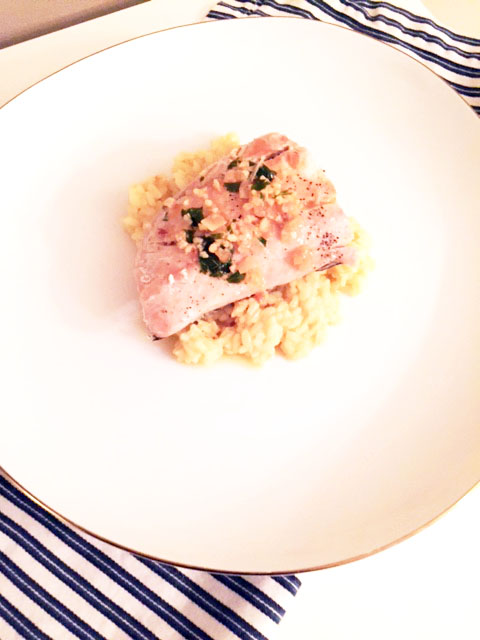 Mahi mahi is one of my favorite, go-to fishes when it comes to dinner. This mahi mahi with lemon butter sauce is one of our favorite, easy weeknight dinners and ready in under 30 minutes. You could use any white fish for this, so substitute your favorite! To keep it simple we serve it over Trader Joe's mushroom and herb risotto. It's found in near the pasta and grains in our TJ, is easy to prepare and pairs perfectly with the light fish.
The lemon butter sauce is so flavorful and the really adds to the mahi, so don't skip it!
Mahi Mahi with Lemon Butter Sauce
via chewoutloud, serves 4
ingredients:
4 fillets of firm, white fish
3 tbsp unsalted butter
2 shallots, minced
3 cloves of garlic, minced
2/3 c dry white wine
2 tb fresh lemon juice
1 tbsp fresh parsley, chopped
zest of 1 lemon
3 tbsp olive oil
salt & pepper, to taste
directions:
Allow the fish to rest at room temperature for 30 minutes. While the fish is sitting out, prepare the sauce. Warm the butter, shallots and garlic in a saucepan over medium heat, continuously stirring for 2 minutes. Next, add in the wine and lemon juice and bring the mixture to a boil. Wait for it to begin to thicken, around 2-3 minutes. Mix in the fresh parsley and lemon zest. Add salt and pepper, to taste and set aside.
Gently pat the fish fillets with a paper towel to absorb any excess moisture. Season both sides with salt and pepper. Add the olive oil to a frying pan. Cook each filet on the pan over medium heat, with the lid slightly ajar to allow it to steam. Cook 3 and a half minutes on each side. Serve the fillets onto plates and top with warm lemon sauce.
Enjoy!
xx