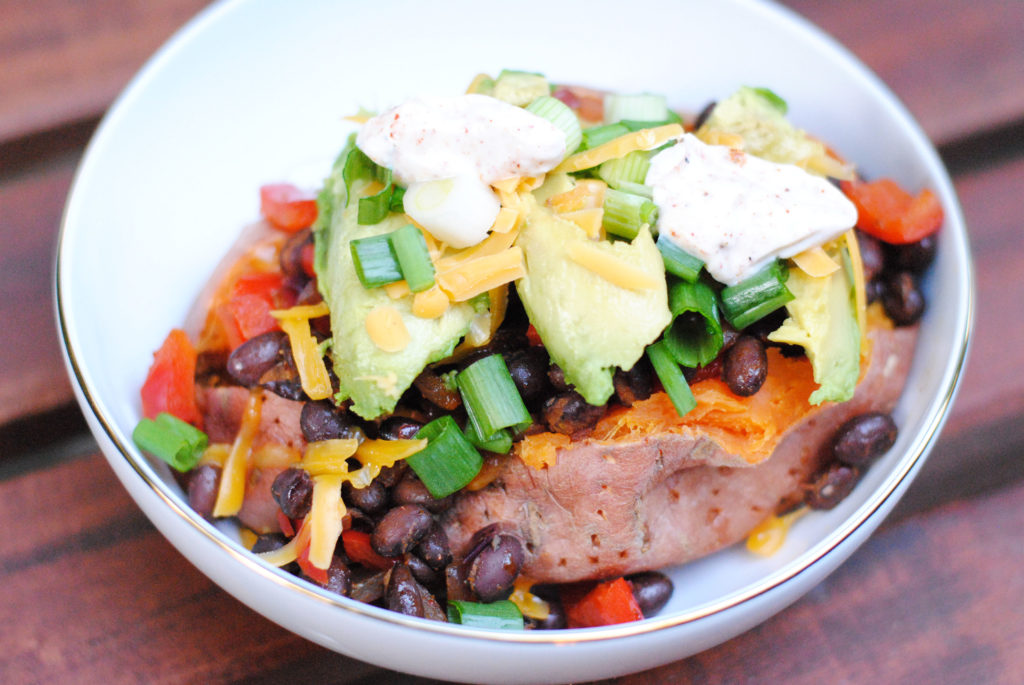 We try to make at least one dinner a week vegetarian and in doing so we've discovered some really good, meat-free recipes! I love how crazy good for you sweet potatoes are; they're packed with numerous vitamins and antioxidants and even said to have cancer fighting and anti-aging benefits.  It may not look like much, but when you loaded the sweet potato down with black beans, veggies and avocado it ends up being a really satisfying dish! The greek yogurt/taco seasoning combo on top is such a tasty finishing touch, so don't leave it out!
If you have a craving for Mexican food these vegetable stuffed sweet potatoes are an awesome way to curb a craving in a healthy, nutrient dense way! We served ours with a side of homemade guacamole and corn chips.
Loaded Vegetable Stuffed Sweet Potatoes
via skinnytaste
ingredients:
4 medium sweet potatoes
1/2 cup 0% plain greek yogurt
1 tsp taco seasoning
1 tsp olive oil
1 red bell pepper, diced
1/2 red onion, diced
1 tsp chili powder
1/2 tsp paprika
1/2 tsp cumin
a pinch of salt
1-1/3 cup black beans, drained and rinsed
1/2 cup salsa
1/2 cup shredded cheese (cheddar or mexican blend)
1/4 cup chopped scallions
directions:
Using a fork pierce holes all over each sweet potato. Cook in the microwave for 8-10 minutes, or until soft and easy to cut. You can also bake these for 45 minutes at 400F. In a small bowl mix greek yogurt and taco seasoning. Set aside. Heat the olive oil in a skillet over medium heat. Saute the peppers, onions, chili powder, cumin and salt for around 5 minutes. Add in the black beans and cook for another 5 minutes.
Once the sweet potato is cooked through slice lengthwise to open. Sprinkle the shredded cheese on top then layer with the black bean mixture. Top with a dollop of the greek yogurt mixture, salsa and green onions.
Enjoy!
xx