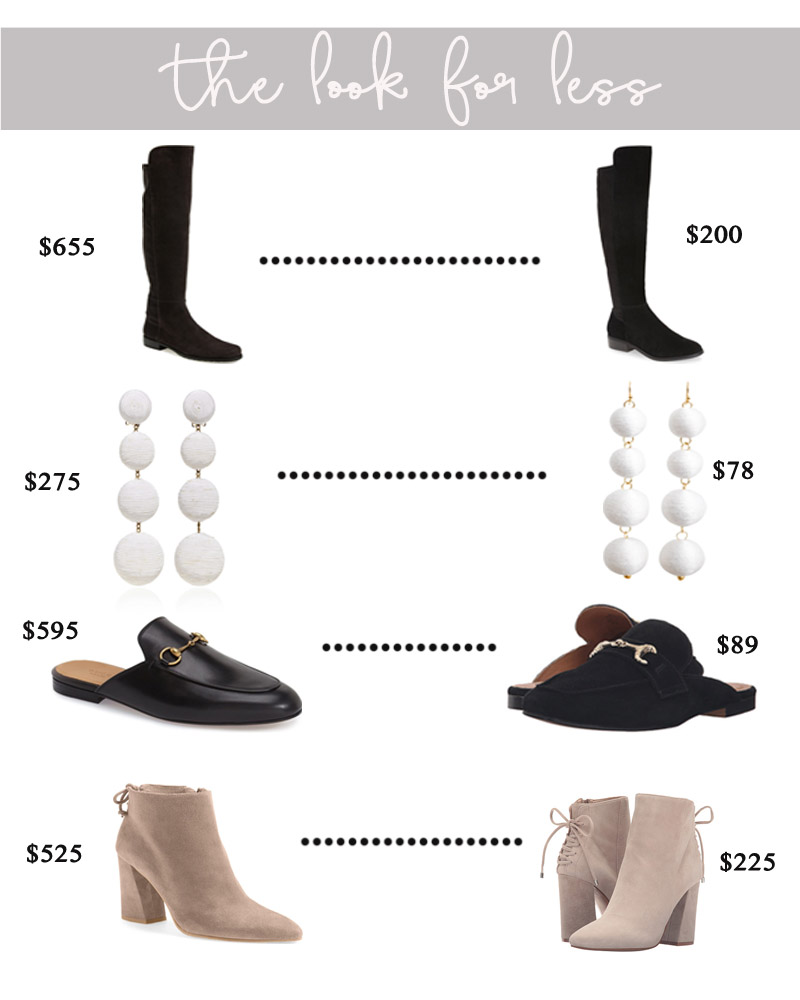 ---
OTK Boots: Splurge / Save
Drop earrings: Splurge / Save
Mules: Splurge / Save
Suede Lace Up Bootie: Splurge / Save
When trying to decide between splurging on an item or going with a budget friendly version, I typically do my research before making any purchase. Is this something that's a fleeting trend or is it more timeless? Will I be able to style it myself and work it into my everyday wardrobe? Over the years I've learned that no purchase is more regrettable than uncomfortable shoes, which is why I typically avoid Target shoes (loved them in college, but now most of them are just uncomfortable and fall apart over time).
The popular Stuart Weitzman 5050 boots are one of my favorite purchases and shoes that have lasted me a few years. They're definitely an investment, but I'm a firm believer that if you buy the best you only cry once.  Even if it's putting money aside each month for a special purchase, it's worth it. I love the Gucci slides, but until I save up for those, I love this budget friendly version. I have them in the burgundy color and have been really happy with them so far!
These drop earrings I almost purchased over the summer, but held off. They're the perfect statement piece, but since I normally wear simple studs I wasn't sure how often I'd actually wear them. When this version came out I didn't hesitate to order and I'm obsessed! They're really lightweight and I'm now eyeing the blue or black color.
xx