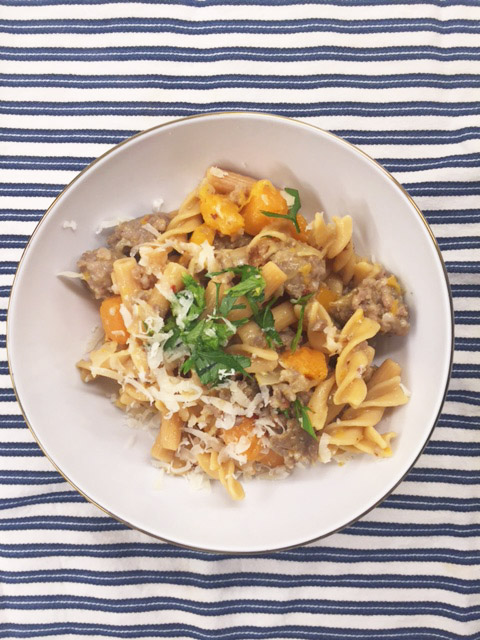 Working on this post immediately makes me want to add this recipe into our dinner rotation again soon. The flavors come together in the best way and I love that there's no heavy ingredients used to make the sauce, just the pasta water and cheese. If you're looking for an easy weeknight dinner that looks impressive (but was secretly easy), you have to try this sausage and butternut squash pasta. To save time I pick up the pre-cubed squash from Trader Joe's. Work smarter, not harder.
I've mentioned my love for Banza Pasta before, but we used it again in this dish and it's.so.good. If you're not familiar with Banza, it's pasta that's made from chickpeas and is high in protein, fiber and even gluten free. We haven't been able to tell the difference anytime we've cooked with it. I pick it up at either Sprouts or Target, so check the ones by you if you're interested!
Sausage and Butternut Squash Pasta
via food and wine
ingredients:
3 tbsp olive oil
3/4 lb peeled and cubed butternut squash
1 onion, diced
1 lb hot Italian sausage, casings removed
12 ounces farfalle (or any pasta you like)
1/2 cup freshly shaved Pecorino Romano
1 tbsp chopped, flat-leaf parsley
salt, to taste
directions:
In a large skillet heat 2 tablespoons of olive oil. Lightly sprinkle the butternut squash with salt and add to the pan. Cook about 8 minutes, or until it beings to brown. Put the squash on a plate and set aside. Add 1 tbsp of olive oil to the skillet and add in the onion and sausage, cooking over high heat. Break up the sausage as it cooks and be sure to cook the meat through. Dump the butternut squash back into the pan. 

In a large pot of boiling salted water, cook the pasta according to the package directions. Drain the pasta and set aside 1 cup of the pasta water. Add the pasta and the reserved cooking water to the pan. Sprinkle with cheese and heat, stirring for 1-2 minutes until a sauce beings to thicken.  Divide portions into bowls and top with parsley.
Enjoy!
xx