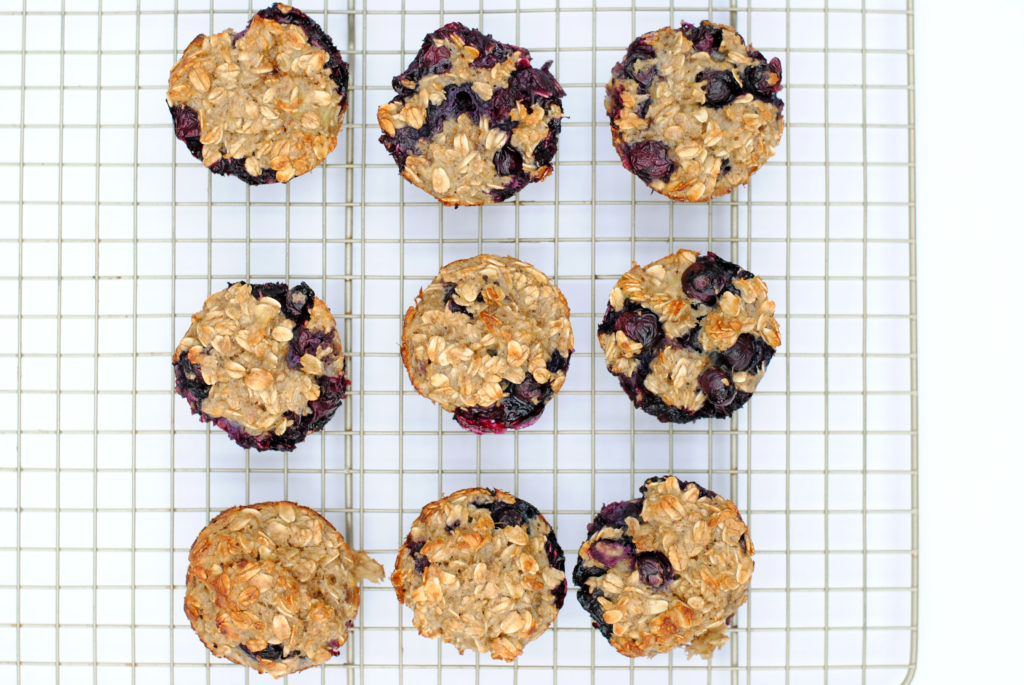 Everyone knows that mornings are busy. Any recipes that cut down on having to actually prepare something in the AM are ones that I bookmark and make again and again. Overnight oats is one of my favorite make-ahead breakfasts! These blueberry banana oatmeal cups are such a great, filling option to grab as you're walking out the door or for a mid-morning snack.
These also make a great treat to bring to new parents. I brought these and a sausage and egg casserole to one of my good friends last week and they're always a hit. Since so many people bring dinner options, breakfast is a great way to mix the meal options up!
Blueberry Banana Oatmeal Cups
via yummiest food
ingredients:
1 cup fresh or frozen blueberries
2 eggs
2 cups rolled oats (old fashioned– not quick cooking)
2 ripe bananas, mashed
1/2 cup brown sugar (could leave this out or cut down. I don't use this much)
1 tsp baking powder
1 tsp vanilla extract
dash of cinnamon, optional
directions:
Heat oven to 425 F. Spray a muffin pan with non-stick spray or put liners down. In a large bowl dump in the mashed bananas. Add in the eggs, rolled oats, baking power, sugar (if using), vanilla and cinnamon. Stir to combine and gently fold in the blueberries. Scoop the batter into the muffin pan and bake for 15 minutes.
xx