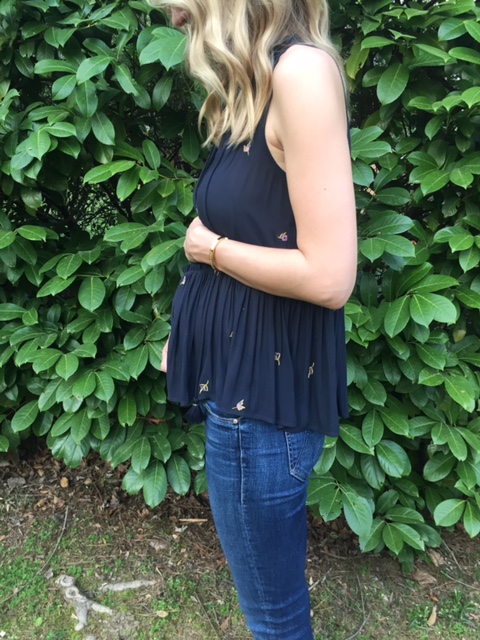 23 weeks already?? Where is time going? I'm trying to get better at sharing tidbits about the pregnancy, exciting updates and what I'm picking up as we get ready for our sweet little girl. There are so many of y'all that it seems are also pregnant and I'm loving all the messages that you're sending with post suggestions and questions. Keep them coming! I feel like my belly didn't really "pop" until around 22 weeks, but there's no doubt it's out now!
How far along? 23 weeks
Baby's size? just over a pound and around 11 inches
Gender: a little girl!
Maternity clothes: yes and no. Gone are the days of being able to wear high waisted jeans and cropped style tops. There are two pairs of my normal jeans that I can still wear since they have some stretch to them, but maternity jeans are usually more comfortable. These illusion jeans and these frayed ankle jeans were two of my tried and true favorites pre-pregnancy and they've treated me well through now. Mother denim is always my go-to and I'm pretty much addicted to their jeans in general. Peplum tops like the one I'm wearing above are perfect for this stage and it's not maternity.
A few maternity items that I've ordered:  these white jeans, this workout top, this and this tank that are amazing and I'm loving the longer length on (non-maternity version here and here). These ruffle shorts are not maternity but total lifesavers with this warmer weather approaching and are easy to work the bump around. Also, these denim cut-offs are so cute and so much more comfortable than my old ones right now. I ordered my regular pre-pregnancy size and they fit great. I'm working on finding pieces that I can wear now and post baby and will put everything together in a future post!
Cravings or Aversions? I'm back to my old self and loving all the sweets. I try to make them healthy treats but the Easter candy is making it hard (looking at you jelly beans and mini cadbury easter eggs). I still can't get back on board with barbecue for some reason…
How're you feeling? Feeling good, minus all the pollen and allergies! Little babe is super active and her movements get bigger and bigger each week. Brian was able to feel them for the first time last week and it was so exciting. Barre is helping me stay active and seems to alleviate any back pain that creeps up.
Nursery: The rug that I ordered two months ago is finally off of backorder and delivered! We picked out a crib and a glider but haven't ordered either yet. Thinking those will be crossed off the list in April. I also ordered a mirror that's backordered until June, but hoping it works in the space. We're doing a neutral scheme with a few hints of color, but nothing big and bold.
Purchases so far: I shared yesterday on my instagram stories that I ordered this Fawn Design bag in tan and I absolutely love it. There are so many pockets and the fact that it can be worn as a backpack or shoulder/messenger bag is a major win in my mind. Added bonus that it's unisex. Old Navy has had some really cute outfits lately and I ordered this chambray bubble, this 2 piece set and  this navy and white bodysuit that I'm obsessed with. The Kissy Kissy brand is one of my favorites and I have this stripe footie and a convertible gown that will be so cute in the newborn days.