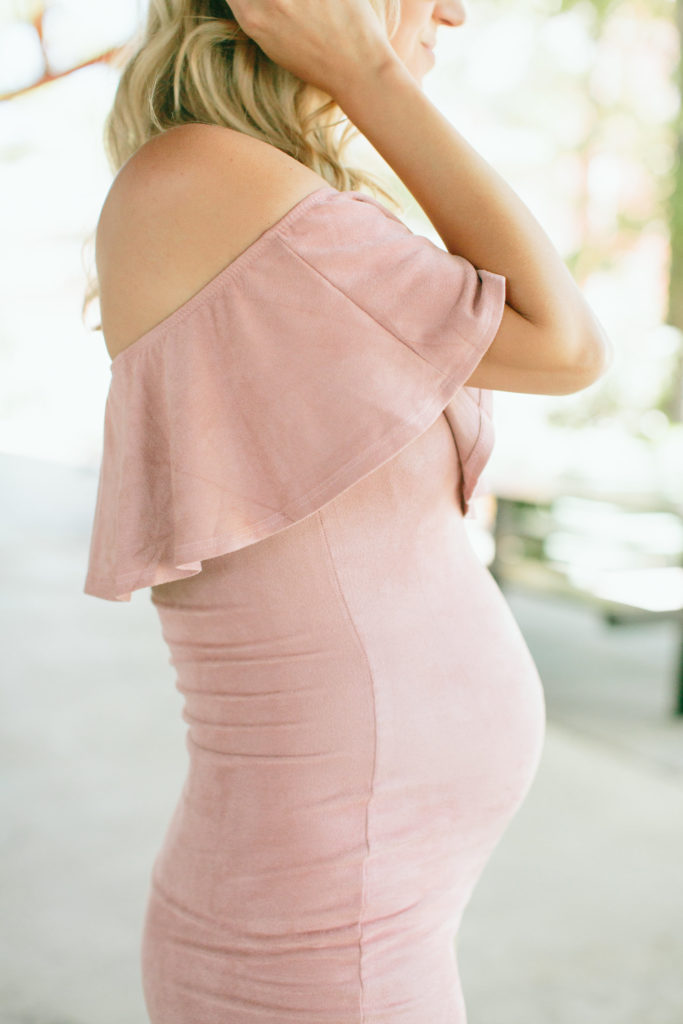 33 weeks down and 7 weeks (or less!) to go! Things are definitely getting to the point where it's harder to get comfortable. I feel short of breath easier and the obnoxious back pain comes and goes. We have a baby shower in Greenville this weekend and then I'm finally going to buckle down, start washing the clothes/crib sheet/swaddles/etc and organizing her closet and chest of drawers. I can't remember a time when I've been more excited to do laundry! 🙂 At our last doctor appointment she said we're growing right on track and our babe must be happy in there since she continues to move all the time!
How far along? 33 weeks!
Baby's Size: about 17 inches and around 4 lbs — the size of a pineapple
Maternity clothes: I've still mixing maternity pieces with non-maternity ones. Free People is the perfect brand that runs big and fits with a growing bump. The hardest piece of clothing to find has actually been workout shorts. Why does no one make these? I have two pairs of these run shorts and just purchased a size larger, but it'd be nice to have a maternity option. These leggings have been my favorite for workouts and are ones I wore before pregnancy. They're still comfortable (and a great deal right now!) and easily fit around the bump. These tanks are great for layering with cardigans (love this one) for an easy and cute outfit. Comfortable jean shorts have been on heavy rotation and these ran true to size.
How're you feeling?: I'd be lying if I said I didn't miss my old clothes. So much of my wardrobe is just sitting unworn right now and I'm so looking forward to being back in my favorite jeans and tops. Definitely finding myself more out of breath while doing just mundane things and getting comfortable at night can be a challenge. Thank goodness for this pillow! I can't remember the last time I've slept through the night. Most nights I'm up for the bathroom and just lay wide awake after for 30-45 minutes. I'm sure this is prepping me for whats to come…
Nursery: We only have a few things to hang and then organize and we should be close to being done! It took me forever to decide on a crib mattress and now that it's finally in the nursery I feel worlds better. We went with this one after endless research and I'm obsessed! I really wanted a breathable, lightweight option and it's the perfect fit. It doesn't require an extra crib sheet and you can literally wash the entire thing – cover and mattress! I did get two of these  muslin crib sheets  that are still breathable and one of my favorite brands so far. This gold mirror is going to look so good over the chest/changing table!
Purchases: For bottles we have this set and this set and I've heard great things about both. We received this super soft play mat last weekend that I know will be perfect for tummy time. Our dockatot delivered yesterday and considering everyone I know raves about it, I can't wait to use it! I'm working on a full post with our registry and will share that soon!
previous updates:
announcement / 16 week update / 23 week update
28 week update / my pregnancy must haves 
photos via paige molina