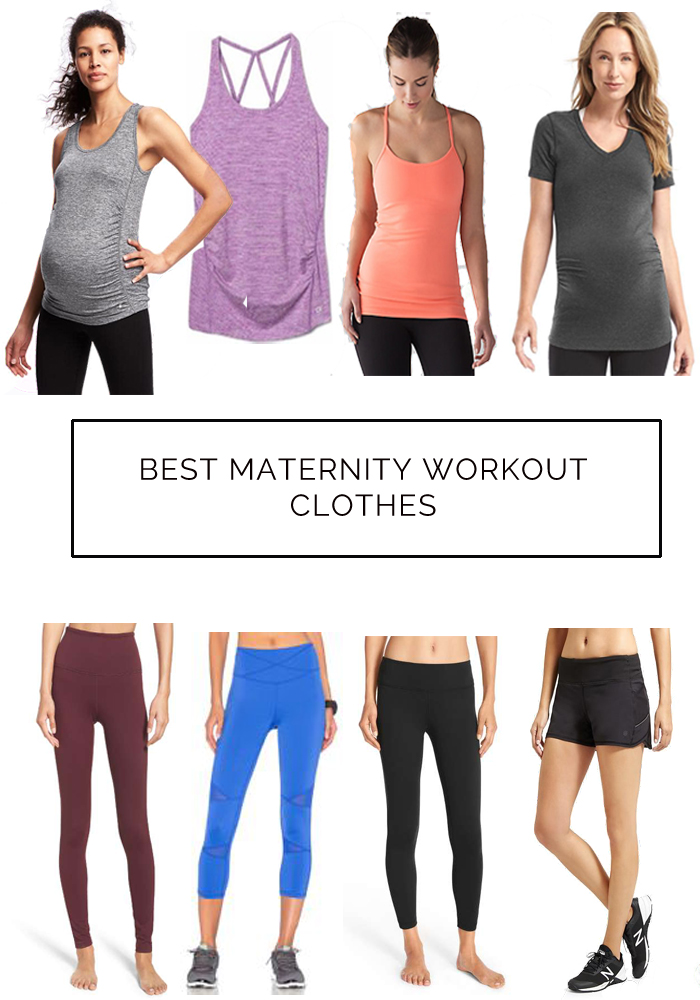 Who would've thought that finding comfortable maternity workout clothes while pregnant would be such a dilemma? It's like brands don't think maternity workout shorts are a needed item and then those of us that are looking for them are out of luck. I thankfully was able to wear a majority of my workout clothes through my second trimester, but by the third it just felt more comfortable in certain maternity pieces (hello larger cup sizes and growing belly). Through trial and error these are my favorite maternity workout clothes that will still keep you motivated and feeling good from beginning to end.
---
TOPS:
+ this grey tank is a great option that has longer length for when your belly grows and you want some added coverage. I wear a sports bra under this top for added support since there isn't a built in.
+ a thin stripe tank that is super comfortable and a great third trimester option. Bonus that it has a built in bra with cups.
+ I loved this cami tank pre-pregnancy and it's been great throughout. Nice and long, built in bra and one you can wear after baby too. This racerback is another non-maternity option that that been awesome to wear. The long length is key.
+ when you want something with sleeves it doesn't get more comfortable than this top. It grows with a changing belly and is the softest thing ever. I wear this one non-stop!
BOTTOMS:
+ these high-waisted leggings are my absolute favorite. I wore these so much I picked up another pair to rotate between the two. They're great for wearing in the beginning when you want to feel more held in until your belly 'pops'. I also rock these with sweaters, relaxed tees, just about anything.
+ a bright blue below the belly option that you can wear before, during and after pregnancy. These are so comfortable!
+ another black pair from one of my favorite brands that sits below the belly as it grows
+ these are my favorite pair of workout shorts and lasted me through the second trimester thanks to the stretchy waistband.
+ since I couldn't find any good maternity workout shorts, I picked up two pairs of these in one size larger for the third trimester
OTHER:
+ you'll likely want at least one sports bra in a size up, depending on how stretchy your old ones were. This one is an awesome, comfortable option that keeps the girls in 😉
+ get a few cute water bottles that you love because you'll be downing serious fluids. I use this stainless steel one daily.
I'd love to know what maternity workout pieces you loved while pregnant!
xx