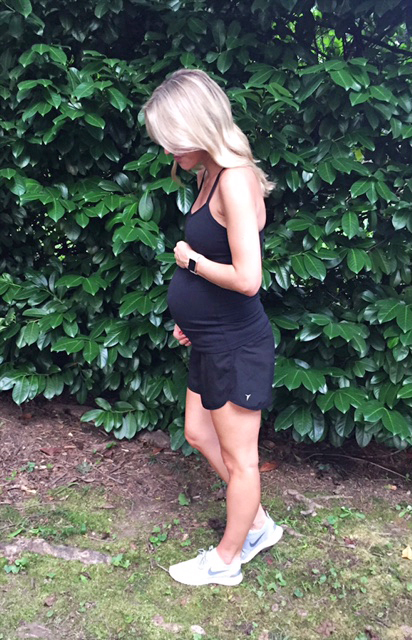 Like all bumpdates, I can't believe that it's already week 'x', but this 37 weeks feels the most surreal. It's crazy how fast this pregnancy has flown by and to think that she really could come at any time now. With only 3 weeks left until my due date I'm trying to check off everything from my to-do list and have as many things taken care of as possible. Wishful thinking, right?
How far along? 37 weeks
Baby's Size: 18.9 inches, just over 6 pounds and as long as a bunch of swiss chard
Maternity Clothes: at this point I'm really not trying to buy anything else maternity related. The home stretch is here and I'm basically just rotating between the pieces I have and making do. Definitely looking forward to shopping for some new pieces for fall! These pajamas have been great during pregnancy and I'll definitely be packing them in my hospital bag. If you're pregnant during warm weather, I can't recommend these jean shorts enough. I ordered my pre-pregnancy size and they've fit great through the third trimester.
How're you feeling?: I'll be honest here, I'm ready to have our little girl with us. This pregnancy has been relatively easy and a blessing that I'm thankful for each and every day, but I'm ready to start our new normal as a family of 4 (Oliver too!). The past week she's been hitting her head into the nerves by my hips and it's painful to say the least. The positive is she's head down… it's just very uncomfortable when that shooting pain happens. Has anyone else had that happen during the end of pregnancy?
Nursery: we have a piece of art coming in for the room and I can't wait to see it in the space! We got this changing pad for the dresser and already feel like it was such a good purchase. I love the thought of being able to cut down on washing a ton of changing pad covers and liners and just being able to wipe this one down to sanitize. Highly recommend if you're in the market for one!
Purchases: I love these little sleepers and picked up a few in various sizes to have on hand (can't wait for her to wear this little giraffe print). For basic onesies these are so soft (ordered in both sizes) and the cute, neutral designs on these I couldn't pass up. I've heard rave reviews about these bottles and am looking forward to testing them out after breastfeeding is established.
previous updates:
announcement / 16 week update / 23 week update
28 week update / my pregnancy must haves  / 33 week update