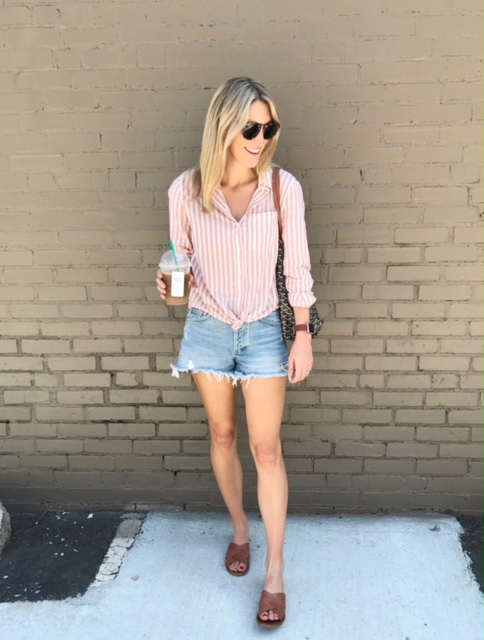 Q & A style posts are some of my favorites to read, so I thought it'd be fun to make this a monthly installment! I had a lot of y'all ask for my favorite baby related products so far, and since that's a long one I'll be sharing all my new mom favorites next week with Olivia's 1 month update. If there's anything specific you'd like included in that post shoot me an email or message via instagram!
---
What're your favorite snacks for staying healthy while traveling?
To know me is to know that I'm a snacker. I always have an RX Bar, Larabar or KIND bar in my bag and one in my car. All of my traveling for work is essentially spent in my car, so I make sure to always have something with me so I'm not tempted to pick up junk food along the way. For something sweet I toss a few Justin's dark chocolate peanut butter cups in my bag too.
How did you stay active during pregnancy?
I kept up with barre3 until around 7 months. I love their classes and found it to be a great way to strengthen muscles that helped during delivery. They have tons of great free online workouts , you can do at home too! Be sure and check the 'prenatal' filter option. Towards the end of pregnancy I would take Oliver on 2.5-3.5 mile walks 3-4 times a week. Walking was a great low impact option that helped me stay active even on 95 degree days (I did have to go first thing in the AM before it became miserably hot).
I need a good book recommendation. What have you read and loved recently?
I'm reading Nantucket Nights right now and have a few Elin Hilderbrand books on my list. It's always fun reading books set in beautiful Nantucket!  It Ends with Us and Maybe Someday, both by Colleen Hoover I flew through and really enjoyed.
I'm heading to a fall wedding and can't decide on a dress to wear. Any suggestions?
I love the pretty detailing on this lace dress and the colors are perfect for fall! The sleeves on this dress totally make it and it would also be great for holiday parties. The classic black dress that you'll have in your closet forever.
What's your full time job?
I've spent the last 7 years working as a manufacturers' sales rep in the hospitality industry. Essentially, I work with commercial interior designers and help them furnish whatever hotel, restaurant, country club, etc that they're designing. The best part about the job is getting to work with my family — my parents, brother, aunt and cousin are all in the industry and make trade shows so much fun. 🙂
How do you plan meals and cook during the work week? 
I'm sure this is about to change since I have Olivia to also juggle in the evenings before Brian gets home, but what I found helped me the most was meal planning on Sunday's. I flip through my favorite cookbooks and scan Pinterest to find at least 4 nights worth of recipes. On Friday's we normally keep it low-key and grill pizza, so I try to mix in a vegetarian meal one night and a healthy balance of proteins Monday-Thursday. I'm also allllll about the crockpot. Work smarter, not harder friends
xx