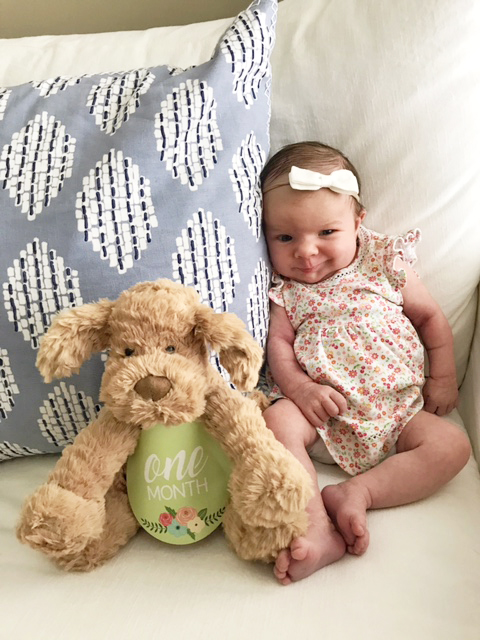 Never has a month flown by faster than the past four weeks. Olivia turned one month old on Friday and I swear I feel like we were just bringing her home for the hospital a few days ago. At the same time, it's hard to imagine life without her now. The past month has been filled with interrupted sleep, slower mornings, realizing it takes twice as long to do anything but most importantly feeling blessed beyond belief that God choose us to be this precious little girl's parents. Not a day goes by that we don't say to each other how much we love her. Our hearts are full in a way I never knew existed before.
We've been finding our groove as new parents and feeling more and more comfortable with braving meals out and getting back into our routine with this little love by our side. Not to say we haven't had a mini meltdown at Target… but we're figuring out her queues and what works. She typically eats every three hours and we're working on getting a (laid-back) schedule with the eat-play-sleep mentality.  Olivia loves being held, riding in the car and being outside. On the other hand, she hates being strapped into the carseat (but is getting better each time), baths are a work in progress and diaper changes/getting dressed aren't her favorite.
Clothing wise we're still in newborn and finally getting into a few 0-3 month pieces that don't swallow her whole. Words of advice- make sure you have newborn clothes. Lots of people told me not to bother with newborn clothes since most babies go straight to 0-3, so I had to go out and get more once she was born. The convertible gowns are ideal in the beginning and honestly is there anything sweeter than a little baby in a gown?
Favorite Products:
+ Keekaroo Peanut Changer: I know when I first purchased this Brian was rolling his eyes at the price for a changing pad. Fast forward a month and it only took two blowouts and getting peed on while changing a diaper to realize the value in it. It's so easy to quickly wipe down and clean without having to start another load of laundry multiple times a week. It would probably be my #1 favorite baby purchase so far.
+ Dockatot:  Worth the hype that you've no doubt heard about it. Olivia will nap a solid two hours when lounging in this! I love that it's easily portable and we just move it from room to room. We're heading to Charleston for Labor Day and will definitely be bringing this with us!
+ Comotomo Bottles: Our pediatrician recommended adding 1 bottle feeding a day to get her used to taking one and she's been a champ with these bottles! They're made to closely mimic natural breastfeeding and we haven't had any issues with nipple confusion or any pushback from her drinking from these. Major bonus that it's only 3 parts to clean!
+ Swaddles: We rotate between 3 swaddles – Ollie, Woombie and Love to Dream.  At night we use either the Ollie or Woombie since her startle reflex easily wakes her up. The tight wrapping that these two give are perfect for keeping her snug all night. For naps during the day I alternate between the Ollie/Woombie and the Love to Dream. I love that all 3 swaddle options have an opening at the bottom for easy middle of the night diaper changes.
+ Uppababy Stroller and Carseat: For sure a splurge, but a stroller option that will work for up to three kids and is a breeze to open/close. It's such a smooth ride when pushing it too! We opted for the Mesa carseat since it easily clipped into the stroller and didn't require an extra adapter. When it's just her and I out running errands the last thing I want to fumble with is an adapter while trying to juggle everything else. We also used the sleep approved bassinet that came with the stroller for her first few weeks at home and just kept it next to my side of the bed for easy nighttime feedings.
+ Rock and Play: another baby item that has been a lifesaver. The incline and snug feeling when she's in there are probably key to keeping a baby happy when you have things to get done and they just want to be held. Love that this one can be plugged in and a timer can be set for the rocking motion.
xx