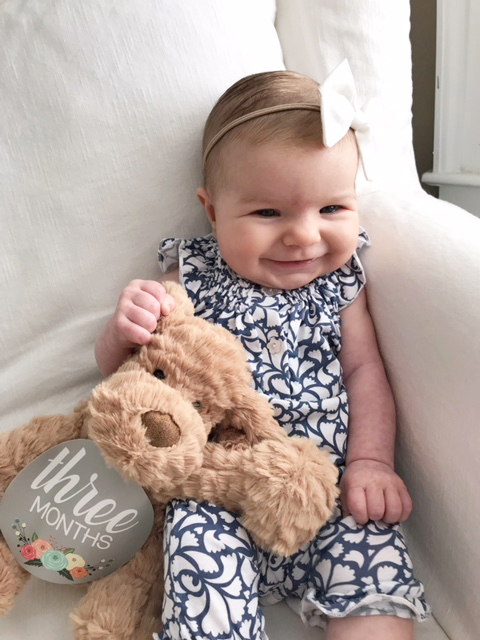 Each month with our sweet little girl gets better and better. Olivia is such a happy baby and so smiley! She loves to babble and at least once a day I hear her talking to herself in her crib. We have two car trips to Charleston under our belts and she did great for them. It definitely takes longer in the car with a baby, but she's a great little passenger.
Olivia has officially started daycare three days a week and while it was hard leaving her on the first day, each day after has gotten better. I know it's great for her to have that stimulation and interaction with other babies and it allows me to maximize my work days so that I can fully focus on her in the evenings. I'm currently working on keeping up a pumping schedule throughout the day  since she's breastfed, but it's an adjustment. Since I spend my days driving all over Atlanta, learning to pump while on the go is a completely new challenge.
We dropped the swaddle and transitioned from the Love to Dream to the Love to Dream 50/50. We started with one arm out during the day and then a day later moved to both arms out. It was a rough two nights, but by the third night we were back to normal.
THREE MONTH FAVORITES:
+ Avent Natural Bottles: we send the plastic version to daycare and use the glass ones for feedings at home. We tested these out in the 4 oz size when she was a month old and have since re-purchased them in the 8 and 9 0z. We wanted to keep the bottles simple with minimal parts to clean and these have been great.
+ Boppy Tummy Time Pillow: this little pillow is such a great tool for tummy time. Olivia wasn't a fan of being flat on her stomach at first, so this has helped her have some lift and encourage reaching with the toys attached on the front. The normal size boppy is way too big for tummy time, but this mini one is a perfect fit!
+ Up & Up Diapers: we've tried Earth's Best, Pampers Swaddlers and these Up & Up diapers and while we've liked them all, the Target ones come out on top. They seem to be more absorbent and have less leaks all at the lowest price point!
+ Best Ever Socks & Footie Pajamas: these socks aren't the cheapest, but they're the best at staying on. Zip pajamas are the way to go. Who has time for all those buttons early in the morning? Our favorites are this pair (super soft!) and any of these. Both hold up so well wash after wash.
xx