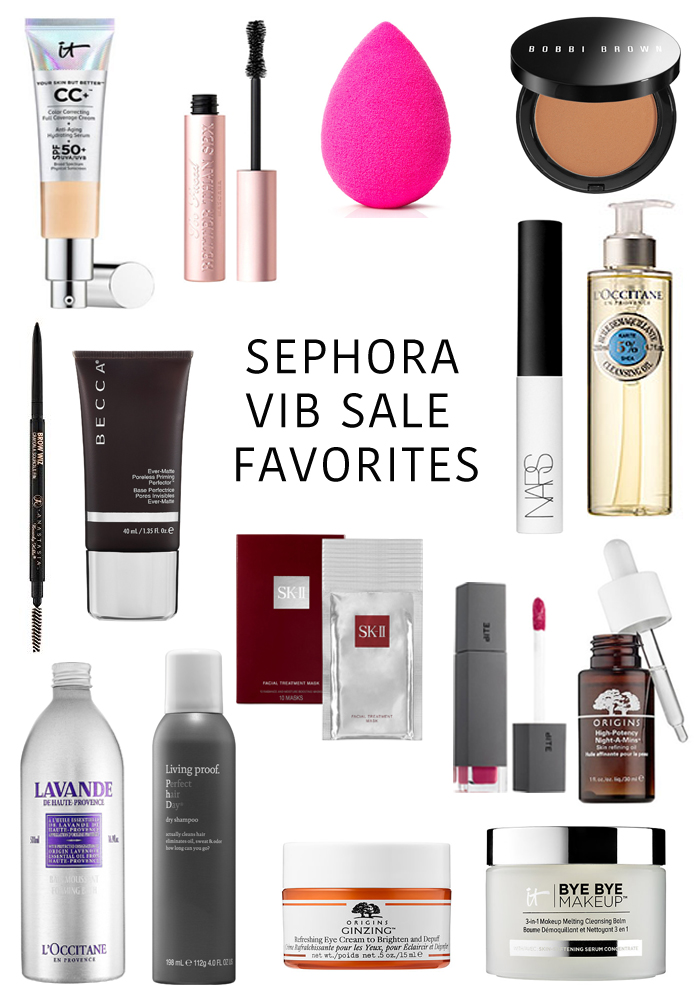 I've been patiently awaiting the Sephora VIB sale to replenish a few favorites and pick up some new products I've been wanting to try. With 20% off for VIB and VIB Rouge members and 15% off for Beauty Insiders it's the perfect time to get beauty items that never go on sale! I'm talking the face masks that have a cult following, stay all day foundation and makeup brushes that are worth the investment. The above are all products that are a mix of my tried and true favorites, along with the new products I'm scooping up during the sephora vib sale.
TRIED & TRUE:
It Cosmetics cc cream: this is my go-to color correcting, full coverage foundation. It has a natural finish and a little goes a long way. I'm currently wearing the light color.
Living Proof dry shampoo: I've raved about this dry shampoo countless times, but it's my top pick for covering dirty roots. Spray the section of hair, wait 30 seconds and then rub/brush it in for cleaner roots.
Too Faced better than sex mascara: best.mascara.ever. Nothing makes my eyes pop like this one!
BeautyBlender: I've used the same beautyblender for 2 years and while I'm definitely overdue for a new one, it says something about the tool that it's held up so well. There are tons of knock of versions but I promise they don't apply nearly as well as the original. It gives the perfect dewy finish. I'm picking up another one (finally) now.
Bobbi Brown bronzer: This is a relatively new favorite yet I'm already hooked. I wear the 'golden light' color and it's the prettiest natural bronzed look.
Anastasia brow wiz: Totally worth all the hype! This fills in your brows but makes them look completely natural. When I asked for recommendations from y'all this was hands down the top referred brow pencil and for good reason.
L'Occitane lavendar foaming bath: To be honest I haven't tried a L'occitane product that I didn't love. This bubble bath smells soooo good and the lavender makes it extra relaxing. It would make such a good gift!
Origins ginzing eye cream: I've repurchased this multiple times and still haven't found a day eye cream that I love more. It really helps wake up tired eyes and makes them appear brighter. Both of which I can use as a new mom!
It bye bye makeup balm: I've tested out numerous cleansing balms and none of them work as well as this one by It Cosmetics. It's super gentle on the skin and gets off even the most stubborn eye makeup. This jar will last you a long time!
TO TRY:
Becca primer
Nars eyeshadow base
L'Occitane cleansing oil
SK II sheet mask
Bite Beauty : ordering in shade 'supreme'
Origins night-a-mins- oil
SEPHORA VIB SALE FAVORITES:
xx