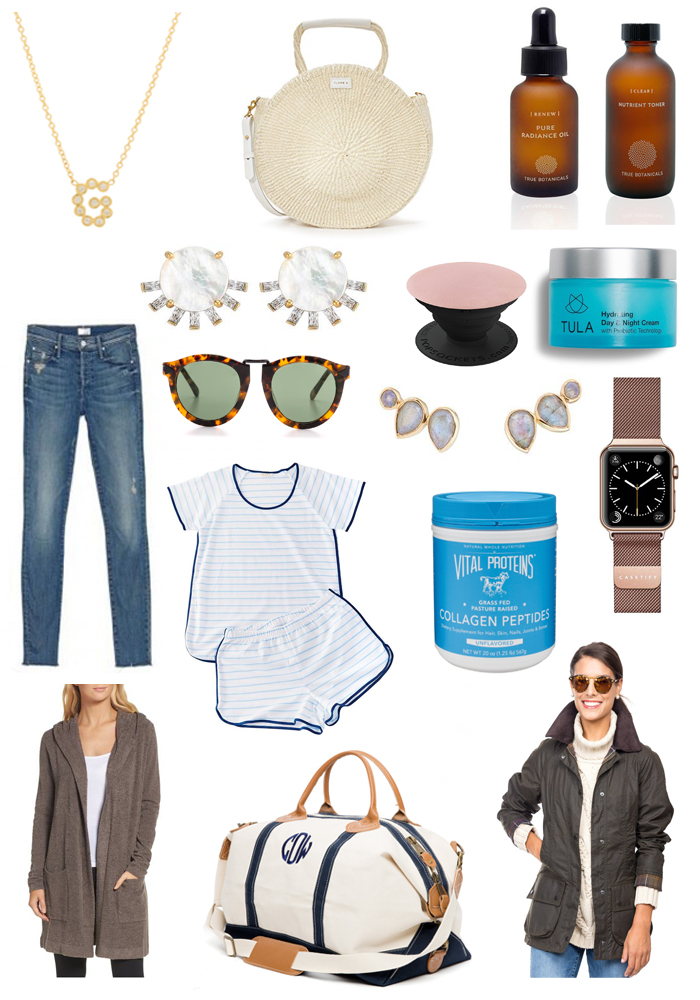 initial necklace / straw handbag / pure radiance oil / nutrient toner
tallulah earrings / pop socket / tula hydrating cream / mother denim
tortoise sunglasses / cove crawler earrings / metal apple watch band
lake pajamas / vital proteins collagen powder / barefoot dreams cardigan
monogrammed satchel / barbour jacket
Rounding up some of my standout favorites from the year is always one of my favorite posts to work on each December. There are so many fabulous items I use and love throughout the past 12 months, but these are my tried and true rockstars.
I wear this initial necklace with the letter "O" for Olivia every single day. It's a piece of jewelry that never fails to make me smile. You absolutely get what you pay for and the quality of this necklace is bar none.
The straw handbag that sold out everywhere this past year. The longer strap made it such a great bag to just throw on and go. I definitely see it being a major wardrobe workhorse in 2018.
3 skincare items I always want to have with me: this toner and facial oil by True Botanicals (non-toxic and amazing!) and this moisturizing cream by Tula. Use code 'ASHLEYG15VIP' for 15% off your purchase! I used Tula all during my pregnancy and continue to use it daily.
Brian knew I'd been eyeing these beautiful stud earrings last year and got them for me for Christmas last December. They're my go-to earring when I want a little something bigger and are absolutely gorgeous. For a more subtle everyday earring I reach for these cove crawlers.
On the tech side- why did I wait so long to get a pop socket? It makes holding and using my phone so much easier! This stainless steel Apple watch band in the rose gold goes with everything and I'm obsessed with it.
Favorite denim brand hands down is Mother Denim. This pair I've been living in. I have a few pairs of their's and they consisntely hold up well wash after wash. Not to mention are so comfortable!
These tortoise sunglasses seriously look good one everyone. Love love love them!
I'm torn between two of my favorite pajama brands — Lake and Eberjey. You can't go wrong with either, but this Lake short set comes in so many great colors. note: be sure and hang dry them to prevent shrinking
A scoop of this Vital Protein collagen powder goes in my hot coffee every morning and I swear by it. I really feel like it's helped prevent and/or minimize postpartum shedding and has made my nails so strong!
I haven't met anyone that doesn't fall in love with an item from Barefoot Dreams. I scooped up this cardigan sweater during the Nordstrom Anniversary Sale and always have it on at home. It's a perfect extra layer over pajamas and feels like butter on. This would be such a great gift for any of the women in your life!
This monogrammed satchel is a repeat favorite, but for good reason. It holds so much stuff and is the best weekender bag.
I drank the Barbour koolaid and can't go back now. This is easily my favorite jacket and I love that it'll only get better with age.
xx