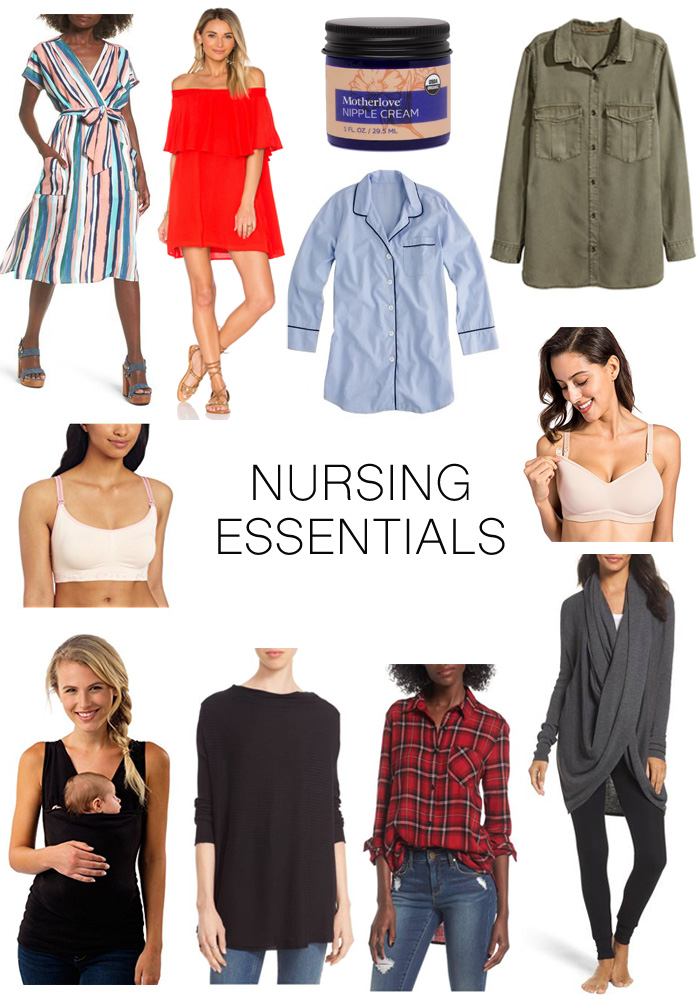 watercolor wrap dress / off the shoulder dress / motherlove cream / utility shirt
pajama shirt / cake nursing bra / gratlin nursing bra / lalabu soothe shirt
split back top/ plaid shirt / wrap cardigan
6 (almost) months into breastfeeding and I'm the first to admit it's so much more work than I ever imagined. When other moms mentioned that it was hard I just always assumed they meant painful. Oh no, it's the time demand and patience that they were talking about. I've always had an open mind to breastfeeding and plan to continue doing it as long as it works for our family, but I'm a firm believer that 'fed is best' and supporting mama's! My workdays are typically spent driving to client meetings all over town, so mastering the pumping while driving act took some getting used to. Thank goodness for winter and loose sweaters – ha!
Over time I've realized what works when it comes to nursing. Most of my tops when I have Olivia for the day are button-ups, loose, flowing tops or ones that can easily be shifted to the side. In the beginning I stuck to thicker fabric for shirts (skip the silk) to avoid any leaks when your supply is still coming in and balancing out. These nursing pads also helped me feel a little more prepared should anything happen. This cream is amazing to apply in the beginning (ouch…) when you're just getting started and they become sore and cracked. I brought this with me to the hospital and started using it as soon as Olivia was born.
I've tried out a few different nursing bras and found two great options that I rotate between. These Cake nursing bras are super comfortable, easy to adjust and a great sleeping option. I lived in these the first few months. This option by Gratlin is another favorite that's priced so well! It's great for days when you want a more "bra" like feel and added support. For around the house or under cardigans/sweaters this nursing tank feels like butter on and is awesome.
Wrap and off the shoulder dresses are by far the easiest options in the warm weather months! I just wore a normal strapless bra with any off the shoulder styles. Get yourself a good pair of button up pajamas too! This shirt and this long sleeve set are ones I wear nightly and they make those middle of the night feedings in the beginning so much easier.
xx