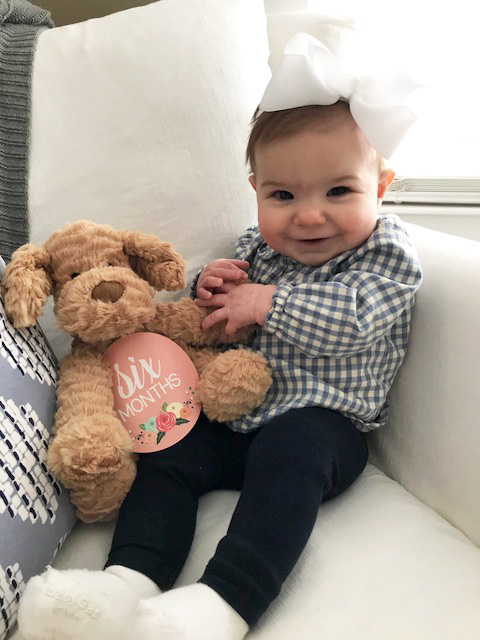 6 months… I know everyone says it, but I can't believe how fast time is flying. My sweet baby is already halfway to a year?! Wasn't it just yesterday that I was calling Brian telling him to meet at home and we were heading to the hospital to have our little girl? Each month brings its own new joys, but 6 months was just so much fun (and still lots of work). Olivia's personality is shining through bigger and bigger with each day. She's so energetic and chatty! I hope I never forget how her smile takes over her entire face. You can't not smile when she does.
She's now eating foods like a champ. Fruits are her favorite, but she loves pretty much everything we've given her so far, with the exception of avocado (whatttt?!). I'm working on a detailed post of food combinations we've been making, the tools I use for preparing her food and packing them for daycare. She nurses/takes a bottle 4 times a day — 7 AM, 11 AM, 3 PM, 7 PM. We offer the food after she has her milk so that it doesn't take the place of those key nutrients.
6 MONTH FAVORITES:
+ Skip Hop Exersaucer: we are big fans of this activity center in our house! I love that this is a toy that will grow with her and become a play table down the road. She hasn't mastered the foot piano down below yet, but the little toys around the circle can keep her occupied long enough to enjoy a cup of coffee. 🙂
+ Door Jumper: another activity that will keep her entertained and bouncing for a while! I have this in our kitchen doorway and it's perfect for her to burn some energy off while I make dinner, unload the dishwasher, etc. There are tons of door jumpers out there, but I love that this one has a little tray table and toys on the front straps that encourage reaching.
+ Fruit Teether Toy: I hope I don't lose these anytime soon because Olivia loves them! She's in that lovely phase of putting everything in her mouth and these are easy for her to grasp and can be chilled in the freezer to help soothe gums. I don't know what it is about the grapes, but they rarely ever leave her side when we're out and about.
+Books: the crinkle books are still a major hit (the tags kept her attention for a good 30 minutes in the car), but my favorite one to read so far is this one. It's such a cute read!
*Olivia's bow can be found here
If there are any specific topics you'd like to see covered in a post feel free to email me or comment below! 
xx