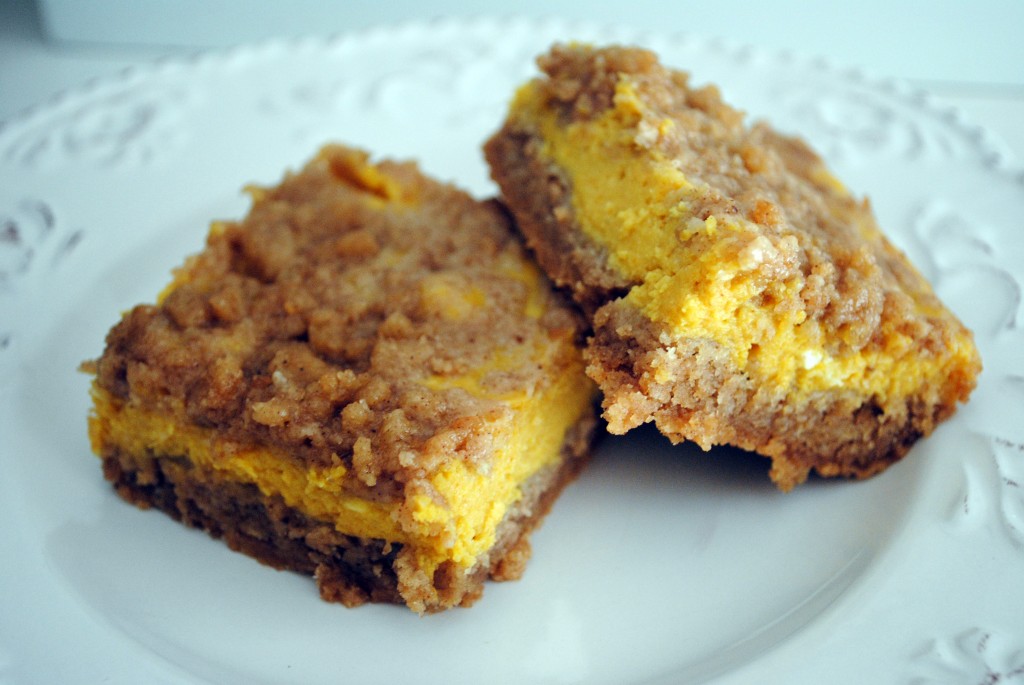 To welcome fall let's start with a pumpkin themed Tuesday Eats, shall we? As soon as the season starts, it's pumpkin recipes galore; consider yourself warned. Spiced crumb bars that combine puree and greek yogurt are bound to be delicious. These treats are fairly simple to make and are so good. Like test-as-soon-as-they-leave-the-oven good.
Pumpkin Spice Crumb Bars
via crunchycreamysweet
ingredients:
crust:
1/2 c. unsalted, melted butter, cooled to room temperature
1/2 c. light brown sugar
1.5 c. all-purpose flour
1/2 tsp. baking soda
1/2 tsp. baking powder
1/4 tsp sea salt
1 tsp. ground cinnamon
1/4 tsp. ground cloves
filling:
1 c. greek yogurt (I used 0% Chobani plain)
1/2 c. canned pumpkin puree
3/4 c. granulated sugar
2 tbsp all-purpose flour
1 egg
1 tsp. vanilla extract
directions:
Heat oven to 375 degrees F. Grease an 8×8 pan with non-stick spray and set aside.
crust/topping:
In a medium mixing bowl, whisk together flour, brown sugar, baking soda, baking powder, cinnamon, cloves and salt. Add melted butter and mix until dough forms. Save 3/4 c. of the mixture to later sprinkle on the top. Press the remaining dough into the prepared pan. Set to the side.
filling:
Place all filling ingredients into a mixer and mix until just combined.  Next, pour over the crust and sprinkle with the remaining topping mixture. Bake for 25-28 minutes, or until the top begins to brown.
Enjoy!
xx