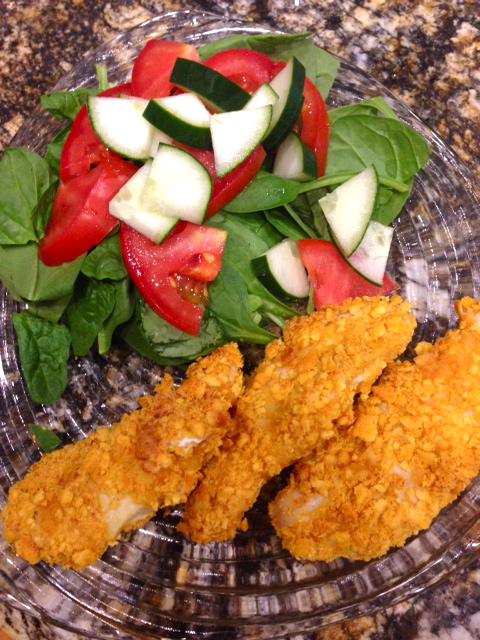 Like most kids growing up a main food group for me was chicken fingers. Dipped in ranch or honey mustard and my cousins and I were perfectly content. While I was back home in South Caroline a few weeks ago my brother and I decided to test out an adult version of the recipe. We traded in crushed crackers for the coating and baked them instead of frying. I think we both were surprised at how good they turned out. These would be perfect for kid friendly meals, tailgating or when a chicken finger craving strikes. I chopped up leftovers the next day and used them on a salad.
Baked Cheddar Dijon Chicken Tenders
via just a taste
ingredients:
2 tbsp. olive oil
2 cups cheddar crackers (cheez-its or the trader joe's cheddar rockets work great!)
1/4 tsp paprika
1 1/4 lbs. uncooked chicken tenders
3 large eggs
2 tsp. dijon mustard
1 cup all-purpose flour
directions:
Preheat the oven to 475 degrees F. Line a baking sheet with foil and spray or brush it with olive oil. Pulse the cheddar crackers in a food processor until finely crushed. Or, place in a ziploc bag, seal and use a rolling pin (or wine bottle!) to crush the crackers.  Place the crackers in a wide, shallow bowl and stir in the paprika. In another wide, shallow bowl whisk together the eggs with the dijon mustard. Place the flour in a third wide, shallow bowl.
Bread each tender by coating it first in the flour and then dipping it in the eggs. Transfer the chicken from the eggs to the crackers, pressing the crackers into the chicken to make sure it's coated. Then, place the chicken on the prepared baking sheet. Repeat the process with the remaining tenders. Bake until golden, turning over once half way through, about 15 minutes.
Enjoy!
xx