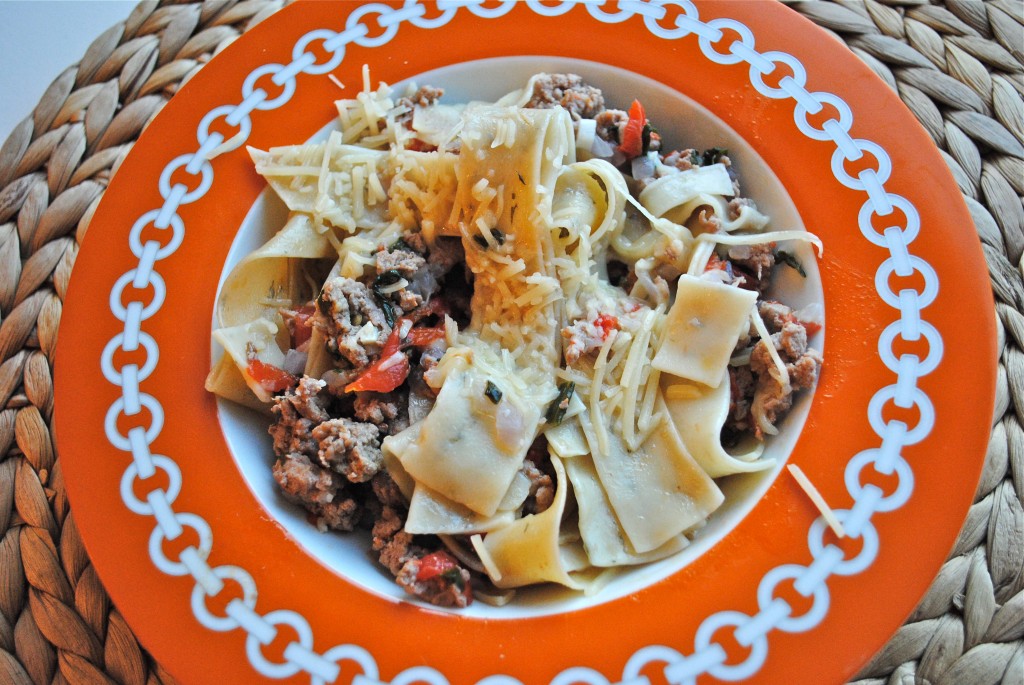 When a pasta craving hits I typically try to find the healthiest recipe for such. Brian and I had picked up some homemade garlic and chive pasta from the St. Louis farmer's market and decided to test out this recipe that Shape  magazine shared. It was amazing and full of flavor. Turkey sometimes doesn't mesh well with recipes in my mind, even though it is the healthier option. For this dish I loved the ground turkey addition and wouldn't change a thing when I make it next. Big part about this recipe? You only use one pot!
Spinach & Turkey Pasta
via bs in the kitchen
ingredients:
1 tbsp olive oil
6 ounces ground turkey
1 red onion, minced
2 cloves of garlic, minced
1 tomato, chopped
1 cup spinach, chopped
4 ounces spaghetti (or pasta of choice)
1 1/2 c. water (or broth)
salt & pepper
2 tbsp freshly grated Parmesan cheese (optional)
directions:
Heat olive oil in a pan over medium heat. Once hot, add Turkey, red onion and garlic and cook for 5 minutes until browned. Add tomato and spinach and cook for 2 minutes. Add pasta and water and bring to a boil. Turn heat to low and simmer with the lid on for about 20 minutes or until water reduces to form a light sauce. Add salt and pepper to taste. Sprinkle Parmesan cheese on top and enjoy!
xx