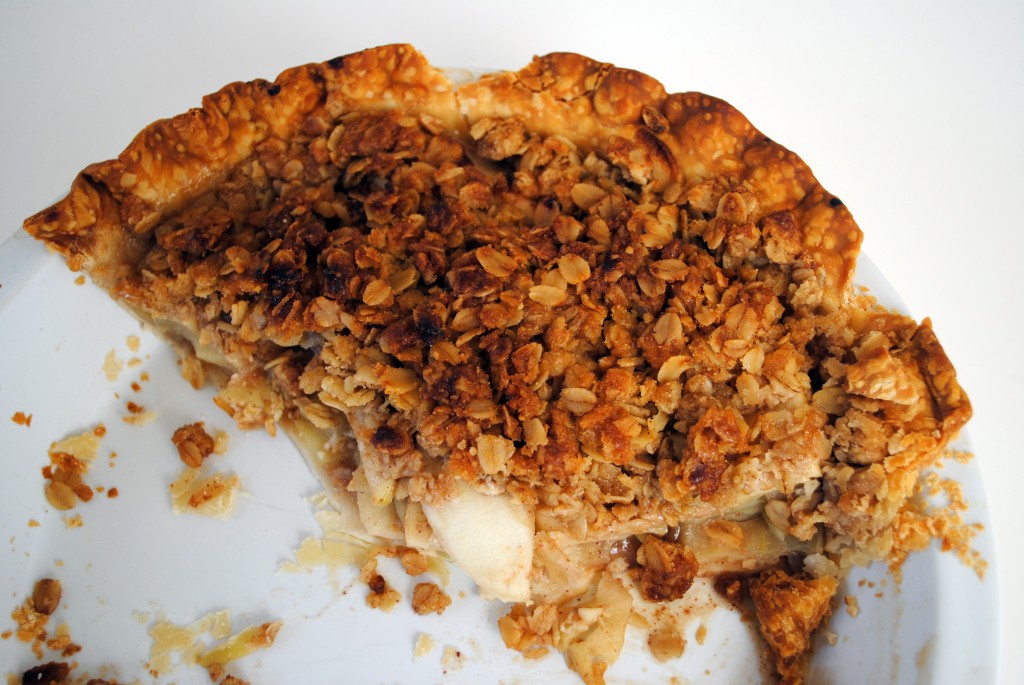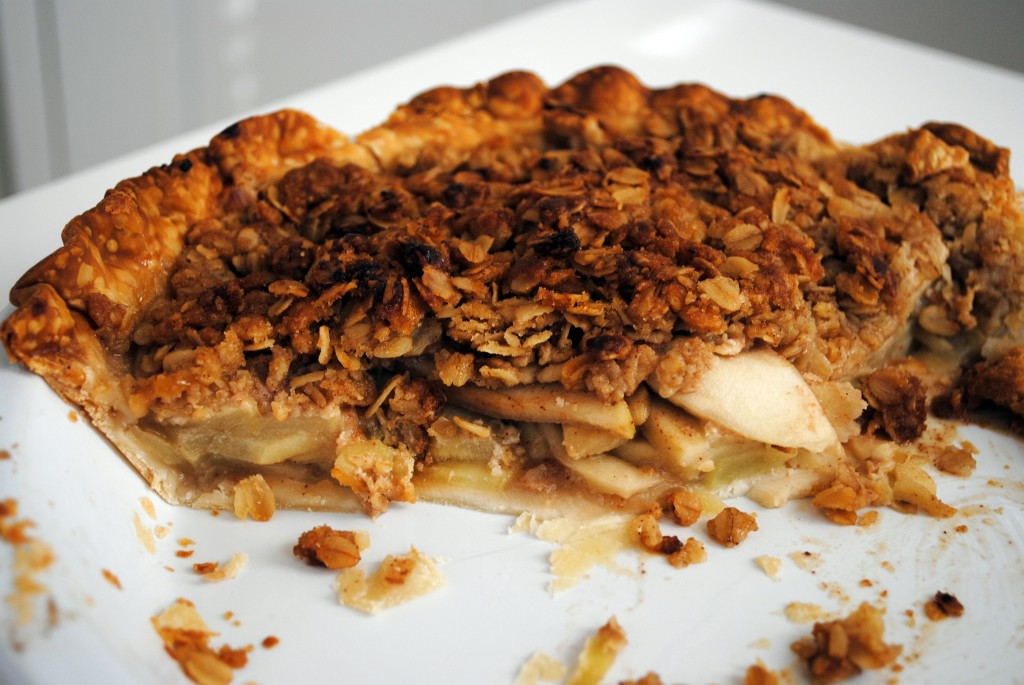 [so much for taking a picture before we tried it]
Since surely we didn't all have enough sweets last week, I'm sharing one more with y'all today. If you're looking for a dessert to bring to a holiday party or as a gift, this apple pie is it. While making the Thanksgiving menu I knew an apple pie had to make the list and when you find one that includes bourbon and oatmeal, you make it. Top a warm slice of this with a scoop of vanilla bean ice cream and you're in dessert bliss.
(I cheated and used a frozen roll-out pie crust. Time was of the essence and it turned out just as good.)
Cide Bourbon Apple Pie with Oatmeal Cookie Crumble
via how sweet eats
directions:
filling:
6 large apples, peeled & sliced ( I used granny smith since they hold up better when baking)
2 1/2 tbsp. flour
1/2 tsp. cinnamon
1/2 c. bourbon
1/2 c. apple cider
1/2 c. loosely packed brown sugar
3 tbsp unsalted butter
1 tsp vanilla extract
oatmeal topping:
1 1/2 old-fashioned oats
3/4 c. loosely packed brown sugar
1/4 c. all-purpose flour
1/4 tsp. cinnamon
1/4 tsp. salt
6 tbsp unsalted butter, softened (I used around 4 tbsp)
Directions:
Heat the oven to 375 degrees F.
Put the apples in a large bowl and toss with the flour and cinnamon. In a small saucepan, combine the bourbon, cider, sugar, butter and vanilla and bring to a boil. Once it's boiling, reduce to a simmer and cook for 5-6 minutes until it thickens. Pour it over the apples and toss to coat.
Roll the pie crust out onto a 9-inch pie pan and gently press down into pan. Fill the pie crust with the prepared apples.
Combine the oats, sugar, flour, cinnamon and salt in a large bowl. Add the butter and use your hands to crumble it up and toss it in the mixture. Sprinkle it evenly over the apples. Bake the pie for 45 minutes. If you don't want the edges to darken, cover with aluminum foil.
xx