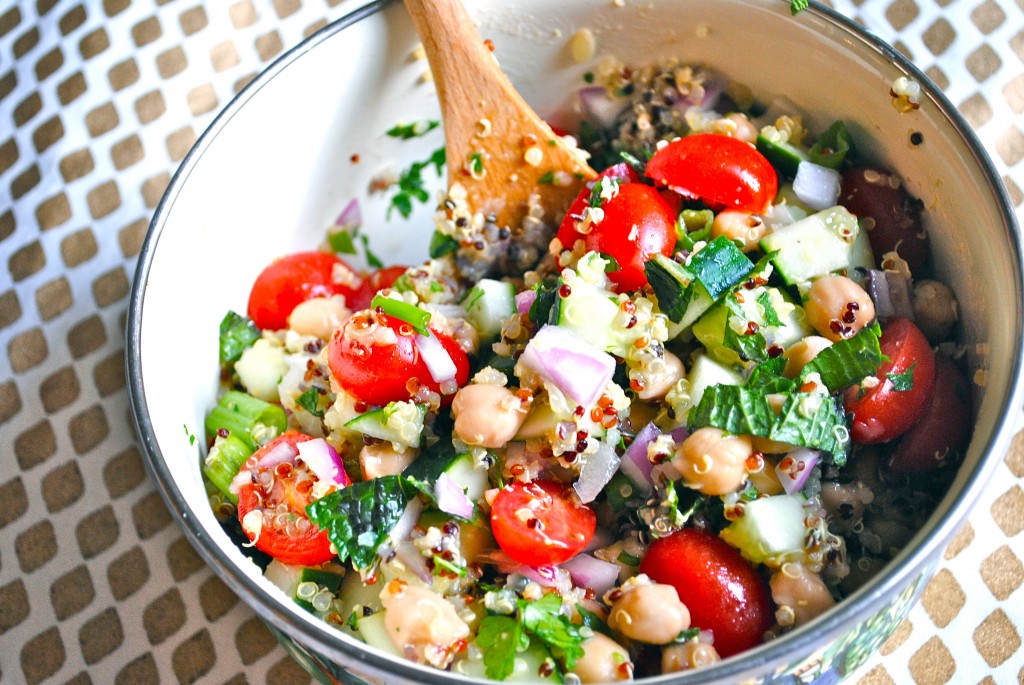 When I asked last Friday about what you wanted to see more of on Turquoise & Teale I loved hearing that y'all like the healthy recipes! I'll keep 'em coming. Truth be told I've already made this recipe three times in the past two weeks (too much?). It's great to make on Sunday and then eat for lunch throughout the week. I also brought it with me to my cousin's for our weekly Bachelorette viewing parties and it was a hit. Essentially I never tire of it. The fresh mint and parsley compliment each other so well and it only gets better as the dish refrigerates overnight. Be sure and use fresh herbs for this recipe. This would also make a great side dish to some grilled chicken or fish.
Quinoa and Chickpea Tabbouleh
via self magazine
ingredients:
2 tsp. olive oil
2 tsp. lemon juice
salt & pepper
3/4 c. chickpeas, drained and rinsed
3/4 c. cooked quinoa (cook in vegetable broth for added flavor)
1/3 c. chopped cucumber
1/3 c. halved grape tomatoes
1/4 c. chopped fresh parsley
2 tbsp chopped fresh mint
2 tbsp chopped red onion
1 tbsp sliced scallions
directions:
In a bowl whisk together the olive oil, lemon juice and salt and pepper. In another bowl, toss together all the remaining ingredients. Pour the dressing on top, stir and enjoy!
xx