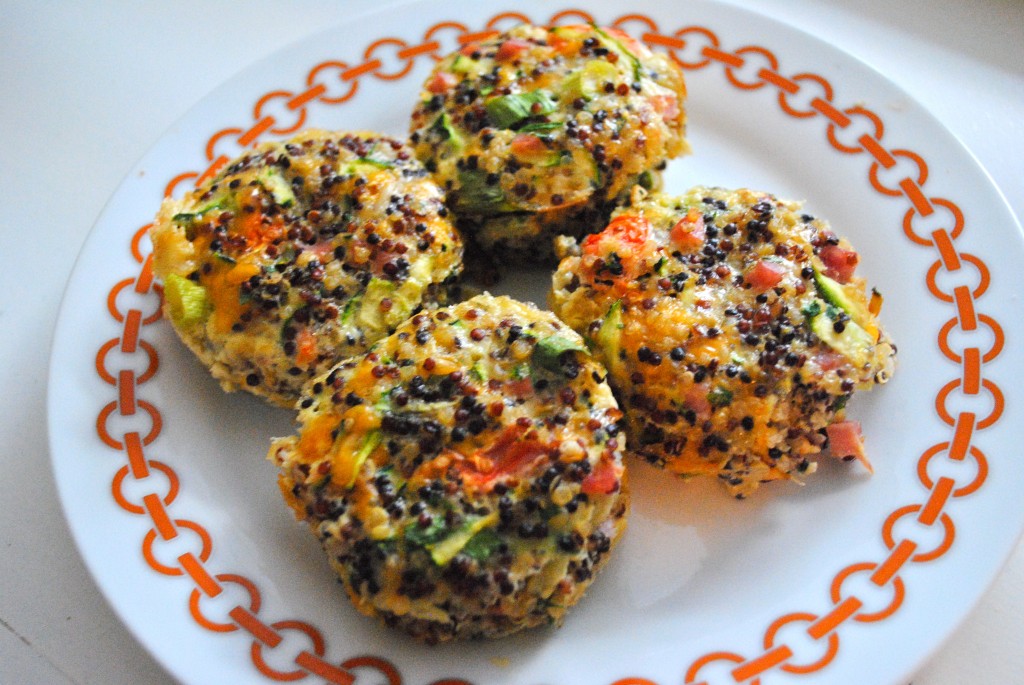 I'm apologizing now for the back to back quinoa recipes. Before I leave St. Louis I always try and make food ahead of time to leave with B so he isn't scrambling early in the morning or coming home after a long shift with nothing edible in the fridge. These muffin sized cups are perfect for warming up for breakfast and eating on the go. You can make these a variety of ways and mix and match whatever ingredients you have on hand. Each cup is  packed with protein and it's a great way to sneak in an extra serving of veggies. Store a few in the freezer and pull out to reheat whenever you need a breakfast bite or quick snack. If you're aiming for a more ascetically pleasing snack, use all white quinoa instead.
Ham & Cheese Quinoa Cups
via iowa girl eats
ingredients:
2 c. cooked quinoa
2 eggs
2 egg white
1 c. zucchini, shredded
1 c. shredded cheddar cheese
2 tbsp parmesan cheese
1/2 c. diced ham (could also use chicken sausage)
1/4 c. parsley, chopped
2 green onions, chopped
salt & pepper to taste
directions:
Preheat oven to 350 degrees F. Combine all ingredients in a large bowl and stir to combine. Spray a muffin pan with non-stick spray and spoon mixture into each cup. Bake 25- 30 minutes. If you're using a mini muffin pan, bake those for 15-20 minutes.
Enjoy!
xx