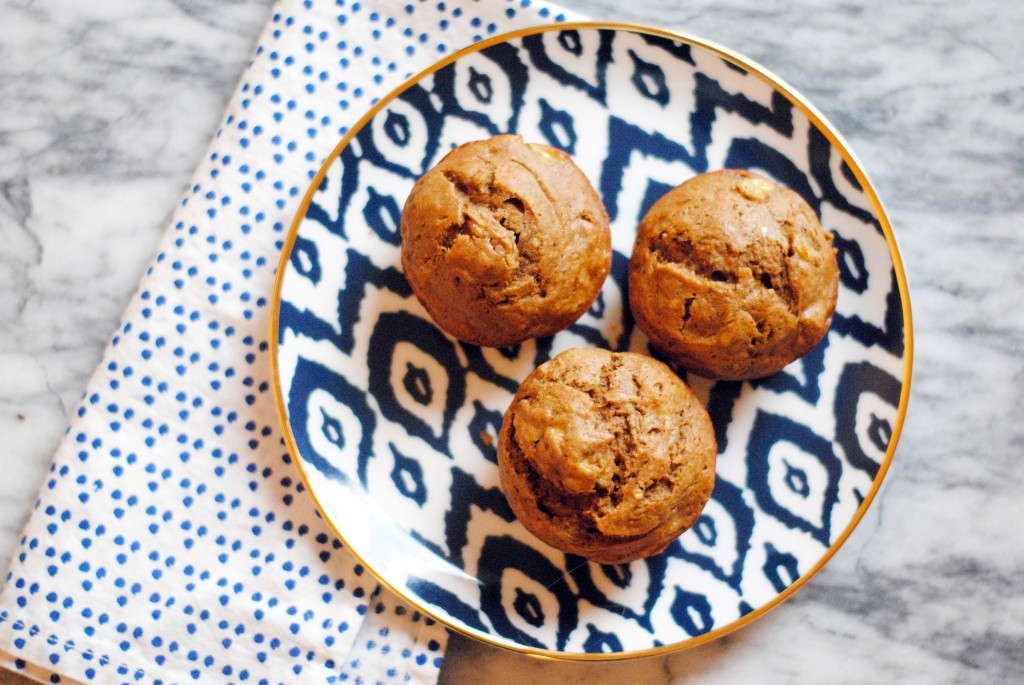 Muffins always remind me of lazy weekends that're spent lounging a little longer than usual curled up under the covers. I don't make them enough and yesterday decided to whip up a skinny version of banana muffins to make weekday mornings a little more special. You know a recipe is going to be a hit when the batter is delicious and you can smell the spices cooking. Checkmark next to both of those qualifications.  A big bonus for this recipe to me is that it doesn't require any butter or granulated sugar and the only oil is two tablespoons of olive oil. Instead of making the mini muffins like the recipes calls for, I made 9 regular sized ones and cooked them for 20 minutes. For all my north easterners, these are a perfect snow day distraction!
Skinny Banana Muffins
via laurens latest
ingredients:
1/2 c. whole wheat flour
3/4 c. all-purpose flour
3/4 tsp baking soda
1 1/2 tsp ground cinnamon
1/2 tsp nutmeg
1/4 tsp salt
2 very ripe large bananas, mashed (about 1 1/4 c)
1/2 c real maple syrup
2 tbsp light olive oil
2 large egg whites
1 1/2 tsp vanilla
directions:
Preheat oven to 350 degrees. Spray mini muffin tins (or regular size) with nonstick cooking spray and set aside.
In large bowl, stir dry ingredients together until combined. In separate bowl, whisk maple syrup, olive oil, egg whites and vanilla together until combined. Form a well in dry ingredients. Pour in mashed banana and wet ingredients. Stir until just combined. Spoon into prepared pans and bake 10 minutes (or 20 mins for regular sized) or until just cooked. Cool 3-5 minutes before removing from muffin tins. Serve warm or store at room temperature for up to 3 days.
Serve with a little bit of butter (or almond butter, if you're addicted like me) and a side of coffee!
xx