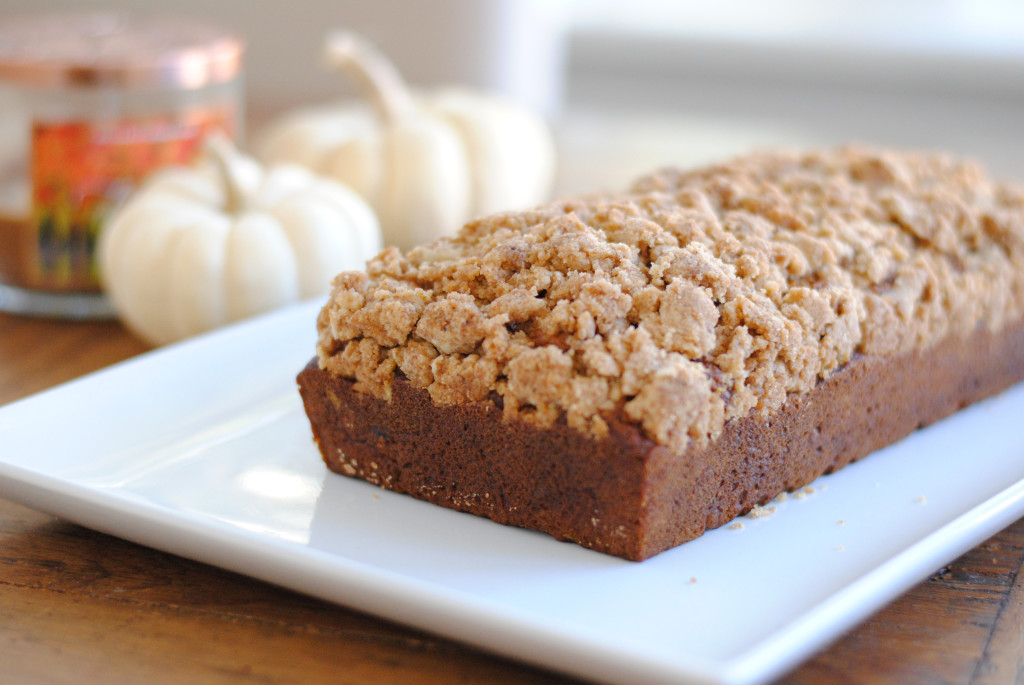 One of my favorite things about October is the pumpkin-everything that starts popping up. (disclaimer: I'm not a fan of PSL – but seem to love everything else!)  All of my pumpkin recipes are saved for this time of year and then it's a free for all. This bread recipe is one my mom and I came across last year and were hooked on. It makes a perfect hostess, thank you or happy fall gift! I just put one in the mail yesterday as a thank you to someone special! There are tons of recipes that require cup after cup of sugar, but this one is light(er) and uses applesauce and coconut oil as healthier alternates. Try it warmed up with your morning coffee for the perfect cool weather treat!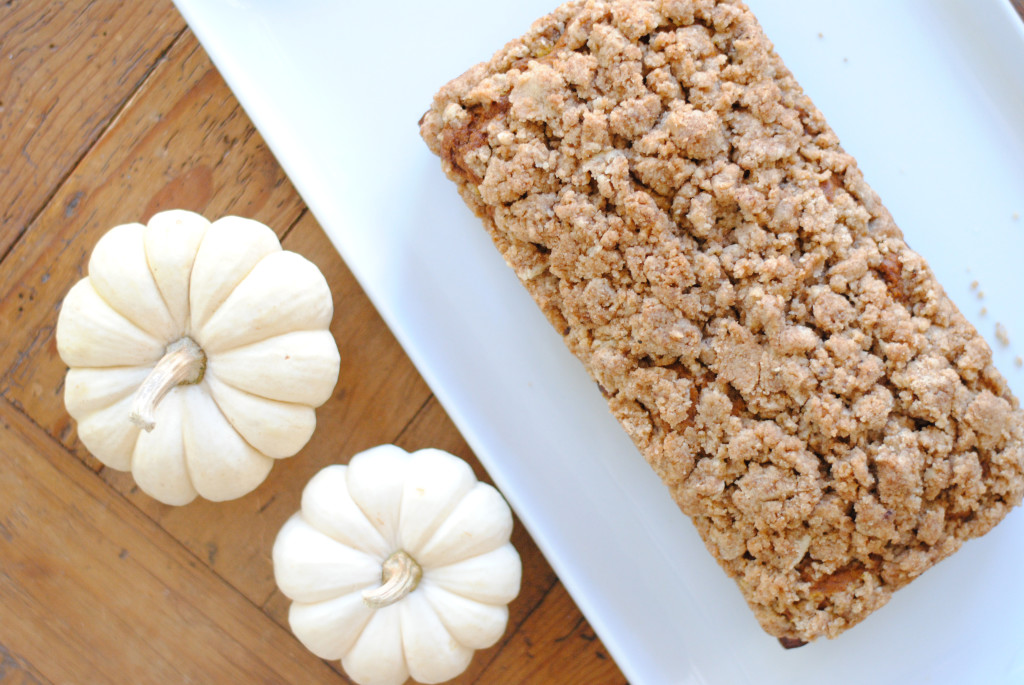 Pumpkin Bread with Crumb Topping
via damn delicious
ingredients:
1 cup all-purpose flour
3/4 c whole wheat pastry flour (I used AP for this)
1/2 c sugar
1/4 c brown sugar
1 1/2 tsp pumpkin pie spice
1 tsp baking powder
1 tsp baking soda
1/4 tsp salt
1 c pumpkin puree
1/3 c coconut oil
1/4 c butter, melted
1/4 c applesauce
2 large eggs
1 tsp vanilla extract
1/2 tsp cinnamon (optional, I added this)
crumb topping:
1 1/4 cup all-purpose flour
1/2 cup brown sugar, packed
1/4 cup sugar
1 teaspoon pumpkin pie spice
1/2 cup (1 stick) unsalted butter, melted
directions:
Preheat the oven to 350 degrees F. Lightly coat 1 loaf pan with nonstick spray. To make the crumb topping, combine flour, sugars, pumpkin pie spice and butter; set aside.  In a large bowl, combine flours, sugar, brown sugar, pumpkin pie spice, baking soda, baking powder and salt. In another bowl, whisk together pumpkin, coconut oil, butter, apple sauce, egg and vanilla.
Pour mixture over dry ingredients and stir using a rubber spatula just until moist. Scoop the batter evenly into the loaf pans. Sprinkle with reserved topping, using your fingertips to gently press the crumbs into the batter.
Place into oven and bake for 45-50 minutes, or until a tester inserted in the center comes out clean. Remove from oven and let cool for 15 minutes before serving.
* you can also make these into muffins by cooking them for 25 minutes at the same temperature.