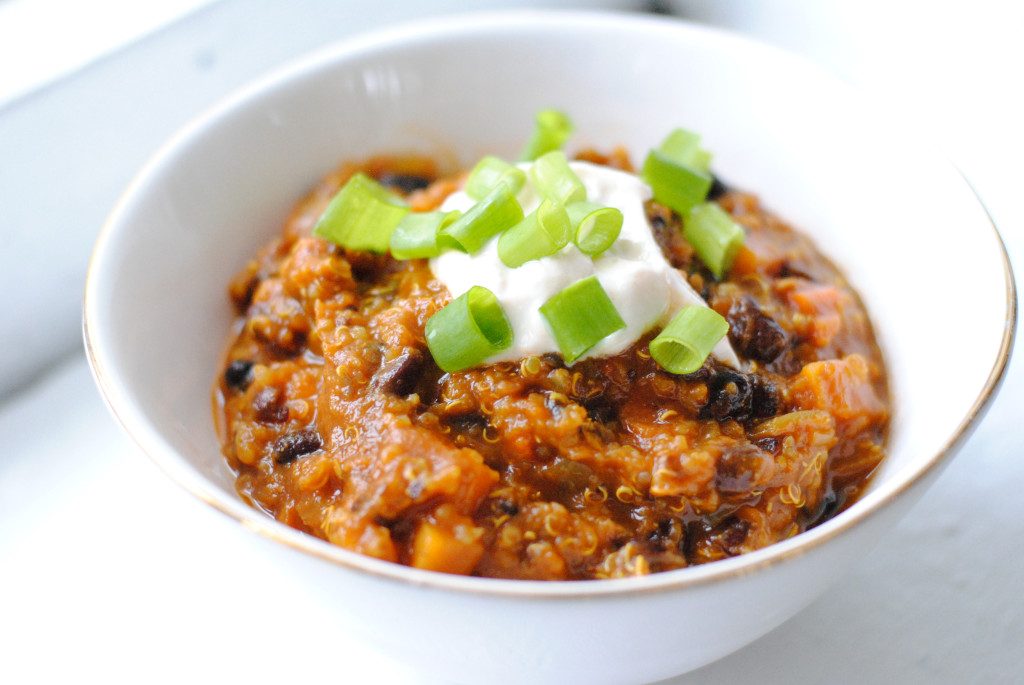 It's the ultimate dreary, raining week in Atlanta. This vegetarian chili has been the perfect dinner dish and warmed up again for lunch today. I owe my sister-in-law a big thanks for sending me this recipe (thanks Ash!), since it's one of our new favorites. If you've been following along on my Tuesday recipes you know the spicier the better in our household. We amped it up by adding extra dashes of hot sauce on top and chopped green onions. On it's own we didn't find it very spicy at all, so don't let the hot sauce turn you off.
The chipotle creme really helps makes the dish, so I wouldn't recommend leaving it off!
Black Bean, Quinoa and Sweet Potato Vegetarian Chili
via ambitious kitchen
ingredients:
1 tsp olive oil
1 small onion, diced
2 cloves garlic, minced
2 medium carrots, diced small
1/2 tsp tumeric
1/4 tsp cinnamon
pinch of nutmeg
1 tsp cumin
2 tsp chili powder
1 tsp smoked chipotle tabasco sauce (I just used Franks hot sauce)
1 can (15.5 oz) low-sodium tomato sauce
2 cups cooked quinoa
2 cans black beans, drained and rinsed
3 cups low-sodium vegetable broth, plus more to thin if desired
1 large sweet potato, peeled and diced into small cubes
for creme:
1 cup plain 0% greek yogurt
2 tsp smoked chipotle tabasco sauce, plus more if needed (used Franks hot sauce)
1/2 tsp honey
1/4 tsp dijon mustard
directions:
Heat the olive oil in a medium pot over medium temperature. Next, combine the onion, garlic, carrots and salt. Stir and cook for five minutes. Second, add in the tomato sauce. Then dump in the black beans, broth, spices and quinoa (already cooked). Raise temperature to a boil. Add in the diced sweet potatoes next. Top with a lid and cook on low for thirty minutes, making sure the potatoes have softened. Combine all ingredients for the creme in a small bowl. Serve and enjoy!
Enjoy!
xx